ASA raps vloggers over undisclosed ads
Paid tongue action nipped by adland watchdog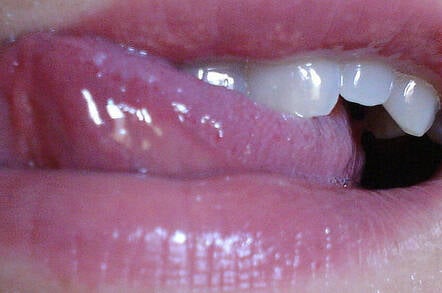 The Advertising Standards Authority has rapped the knuckles of video bloggers for making it unclear when they're actually recommending something and when they've been paid to hawk it to unsuspecting YouTubers.
Vloggers, as we're apparently meant to call them now, are big business these days with stars like Blighty's Zoella racking up over 6.5 million subscribers to her videos about hair, make-up and the masses of stuff she buys.
The ASA said that it was "perfectly legitimate" for vloggers or other social media stars to have commercial relationships to promote stuff, but it needs to be clear when that's what they're doing.
"We're not here to regulate that relationship or to stop vloggers earning money. But when that commercial relationship is in place then the onus is on the advertiser, and by extension the vlogger, to be upfront about it and clearly disclose the fact that they're advertising," the regulator said.
"Ultimately, it pays to be honest. Vloggers build their fan base on the originality and authenticity of the material they produce. It's potentially damaging to their reputation to be found to have hidden the fact that the content they're producing is paid for and controlled by an advertiser."
The authority's statement came as it released a ruling against Mondelez Ltd for five YouTube videos about Oreo biscuits. The company got vloggers to take part in Oreo "lick races", playing off the marketing bumpf that encourages eaters of Oreos to twist off either side and lick out the fondant-like substance inside the biccies.
Vloggers including Phil Lester and Dan Howell, Tom Ridgewell, Mountain View's favourite cash-cow, Emma "F*CK YOU GOOGLE" Blackery, Luke Cutforth, and PJ Liguori all took part in the "challenge", during which they all said the word Oreo a lot.
A BBC journalist complained about the videos, questioning whether they were obviously identifiable as ads or not. Mondelez said it never intended to mislead anyone and was happy that the vloggers told viewers that they were working with Oreo in their videos, which in the company's view clearly meant it was an ad.
Yet the ASA said that while the videos made it clear that Oreo was involved in the creation and funding of the videos and supplied the free biccies, it wasn't clear that the vids were definitely ads – and not, say, sponsored videos over which the vloggers still retained editorial control. ®
Sponsored: Detecting cyber attacks as a small to medium business