Samsung to boot out Shin after Galaxy S5 tanks – report
Smart telly man has the answers, according to report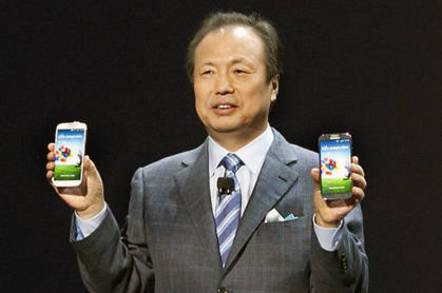 Sales of the Galaxy S5 have so disappointed Samsung that it is reportedly looking at ousting mobile boss JK Shin and parachuting in appliances and telly tsar BK Yoon – who would oversee mobiles as well as his existing remit.
Whichever way you cut it, the S5 has done badly:revenue, margins, year-on-year sales against the S4 or sales comparison against Apple in the West and Xiaomi in the East. A price war between the two could further erode Samsung's position.
The Wall Street Journal reports that S5 sales were 40 per cent below Samsung's internal predictions and 50 per cent lower in China. Samsung tried to redress this with a marketing spend but the S5 only sold 12 million phones in the first three months – failing to topple the iPhone 5S, or the iPhone 6 and 6 Plus, which sold 10 million in their first weekend.
Integration with smartwatches has failed to produce volume for Samsung and projects like the Tizen phone are looking sickly.
Samsung phones, however, seem to be the favourite devices among infrastructure companies and mobile networks. The Note 4 and Alpha are the only devices to support EE's recently launched CAT 6 carrier aggregation and the Note 3 is Ericsson's preferred device for LTE-Broadcast.
However, fashion, rather than technology and technical competence, is now the main driver in mobe operators handset purchasing so that's not going to be enough to arrest the Samsung slide.
Strength of iPhone sales used to mean revenue for Samsung's components division but recent teardowns show a distinct lack of Samsung parts.
The integration of white goods, brown goods and mobile at the top level would mirror what Samsung is doing in the US and might well be an option for the UK, which is currently leaderless following the departure of Simon Stanford. The position was filled by promoting Rob Orr for a short time but he soon went back to his previous enterprise role.
While tightening up the business processes is a predictable path, rediscovering the company mojo will be tougher for BK Yoon – or whomever is eventually tasked with the job. ®