Don't fret: Flash array fiddler Violin sees revenue rise, losses dip
CEO DeNuccio: Concerto will have their ears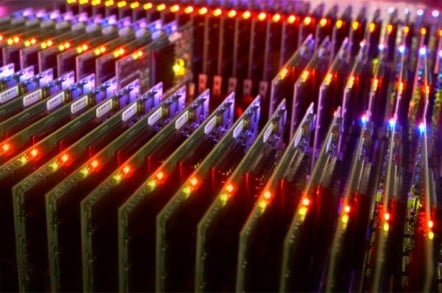 Violin has recorded rising revenues and lessening losses for its third quarter as the new CEO gets the flash array company barking louder in the data centre flash array dogfight.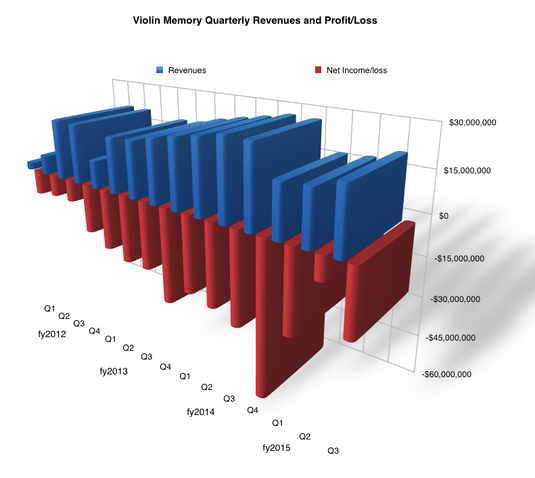 Kevin DeNuccio took hold of the CEO reins at Violin in February and the company has just reported results for its third fiscal 2015 quarter. They look promising.
The basic numbers relate to revenues, and profit/loss. Revenue was $21.7m, 27 per cent up on the previous quarter, but 23 per cent lower than the year ago third quarter (at $28.3m).
That was when the previous CEO caused Violin, viewed as a plane in level flight, to stall and plunge to earth. DeNuccio subsequently took over after Don Basile was ejected, stabilised the aircraft, wrestling with the controls, and ascending again.
The just-reported net loss was $23.5m, which sounds poor but is a hell of a lot better than the $34.1m recorded a year ago. Yes, it's far deeper than the -$8.4m reported three months ago but it's the annual comparison that matters here, not the sequential quarterly one.
The $8.4m figure flattered the company, as it would have been -$25.8m without adding a gain of $17.4m raised from selling its PCIe flash card business. On that (organic) basis the the sequential net loss comparison would have been better too.
DeNuccio's prepared statement said: "We're now growing at a 40-50 per cent annualised rate while beginning to build a backlog that should further improve our performance." Customers can be more confident about Violin's balance sheet strength and its technology as it moves its primary storage from disk arrays to flash arrays.
"With more than six months of restructuring and refocusing of our business behind us, we delivered sequential revenue growth for a second straight quarter ... [and] our bookings also grew at more than twice the rate of revenue growth, marking a second consecutive quarter of double digit expansion," he said.
"Revenue has started to accelerate in our second half as the market opportunity continues to heat up and our position to capitalise on it has greatly improved over the last couple of quarters," he said.
He also added that Violin's market was changing, "from its large niche as a performance-centric solution for applications towards the broader much larger opportunity for general purpose enterprise storage that supports multiple and mix workload, and which makes up the bulk of data centre storage purchases".
Notwithstanding this, he claimed "we remained the category leader in this high performance all-flash array market".
Sponsored: Minds Mastering Machines - Call for papers now open