Telcos spaff $36bn on gobbling Uncle Sam's radio frequencies for beefier cell coverage
FCC auction raises TRIPLE the reserve price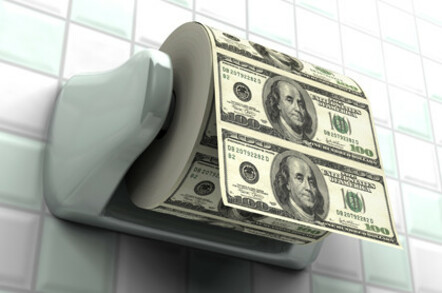 US watchdog the FCC has raised at least US$36bn from telcos by auctioning off a load of radio frequencies for improving wireless broadband.
That's more than three times the $10.1bn it expected – remember that next time your cellphone bill goes up.
While Uncle Sam banks the massive windfall, cell networks can use their newly purchased spectrum space to extend 3G and 4G/LTE coverage in cities.
Frequencies in three bands of unused government spectrum space are up for grabs in the FCC's Auction 97: the three bands are 1695 to 1710MHz; 1755 to 1780MHz; and 2155 to 2180MHz. Some 70 companies – most likely Verizon, AT&T, T-Mobile US, and Dish included – are bidding, confidentially, for 1,614 licenses to use the airwaves.
These bands are labelled "advanced wireless services" (AWS), are good enough for urban areas where the distance between cell towers isn't a problem – and can be used by smartphones, tablets and other devices that support AWS.
Each license is issued in 5 or 10MHz blocks, with a total bandwidth of 5, 10 or 20MHz. They each last for 12 years, and can be renewed for a decade at a time. Exactly how the airwaves will be used is laid out in excruciating detail here [PDF].
The auction (known as the AWS-3 auction) opened on November 13, has yet to close, and bids for licenses range from $1,300 to $2.1bn. A block of frequencies in New York City went for $1.19bn, it's understood.
The spectrum selloff covers all of the United States: 880 of the licenses secure the rights for "economic areas" [map PDF] and 734 will cover "cellular market areas" [map PDF].
The AWS-3 auction has been years in the making. The FCC suggested setting aside a portion of the airwaves for a free public wireless broadband network, but the idea was killed off for obvious reasons. (There's no such thing as a free lunch in the telecoms business.)
The FCC said it plans to spend a portion of the auction's funds on building a nationwide communications network for 911 workers. The remainder of the proceeds will be funneled back to the treasury.
The AWS-3 sell-off is the first of two major broadband auctions the FCC plans to conduct. A second auction, slated for early 2016, will involve carriers buying up the rights to use slices of broadcast TV airwaves for phone networks.
That the AWS-3 spectrum has already climbed to more than triple the FCC's minimum target is good news for the 2016 auction, which relies on TV stations actually putting up their spectrum for sale. With the AWS-3 auction going through the roof, broadcasters must by now realize how valuable their spectrum is. ®
Sponsored: Quit your addiction to storage