Bubble-licious: Good times here again for UK tech startups – research
VCs pumping in that money like it's 2001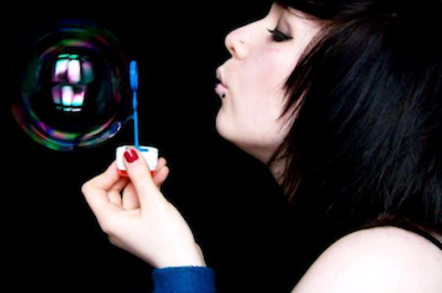 The level of venture capitalist (VC) investment being pumped into UK and Irish tech companies is now "reminiscent" of the early 2000s, with funding for the third quarter of 2014 double that of a year ago, according to research.
In Q3, £363m was invested in in 88 deals worth more than £500,000, bringing the total for the year so far to £1.22bn, corporate finance firm Ascendant has found. This compares with £937m for the whole of 2013.
Overall investment for the whole of 2014 is expected to be up 70 per cent to £1.6bn across 350 companies, compared with 2013.
"These levels of growth are reminiscent of the 1999/2000 period," said chief executive Stuart McKnight. "But we are some way off the peak in November 2000 when 67 deals were completed in one month," he said.
"This remarkable growth has been driven by two things: investment in internet/mobile service companies and in London based businesses," he said.
The internet services sector – and in a particular "fintech" companies – received the most investment, with £712m across 135 companies for the year so far. This compares to £259m invested in 91 internet service businesses for the whole of 2013. By contrast, software companies raised £231m for the quarter.
London received the majority of funds, with 62 per cent of investment.
Last week a report commissioned by the Information Economy Council urged the UK to channel more of its resources into fast-growing companies based outside London, as the UK now has more startups per head than the US.
The report also noted that VC funds need more capital to properly support scale-ups, with the current state of the system creating incentives for VCs to sell out early. ®
Sponsored: Becoming a Pragmatic Security Leader