Mozilla remembers 2013. Y'know, back when it still gobbled at the Google money-trough
Firefox-maker's annual report shows costs rising, sales flat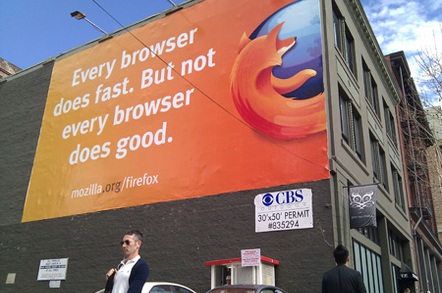 The Mozilla Foundation has released its annual financial statement for 2013, and the numbers raise important questions about Mozilla's future, now that it has ended its longstanding funding relationship with Google.
Royalties paid by Google for queries from the Firefox browser's built-in search box have been the major source of funding for Mozilla for the last ten years. But that all ended this week, when Mozilla announced that it had opted to drop Google in favor of a new search partnership with Yahoo! in the US market.
"We no longer believe one global default search partner is the right choice for our users or the Web," Mozilla explained in its 2013 annual report, published alongside its financial statement on Friday. "Our new strategy gives us more opportunities to build connections between the browser, websites and services, and the treatment of data that advance our mission and values."
It seems impossible that Yahoo!'s US-only paid search results could possibly match the mega-millions that Google showered Mozilla with annually when Google Search was Firefox's global default. And yet, the nonprofit foundation's latest numbers suggest that relying almost exclusively on Google for royalty revenue probably wasn't a sound long-term strategy, either.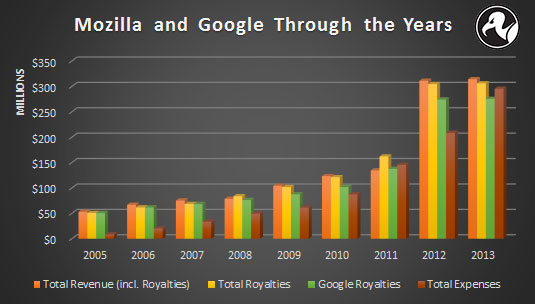 Mozilla's expenditures keep going up and up, but its royalties from Google look to have plateaued in 2013
(Total revenue is less than total royalties in 2008 and 2011 due to bad investments inserting negative revenue line items into Mozilla's accounts)
In 2013, Google accounted for 90 per cent of all royalties received by Mozilla, just as it did in 2012. But while the total amount the Chocolate Factory paid Mozilla leapt by an astounding 99 per cent from 2011 to 2012, in 2013 the figure was only up 0.5 per cent from the previous year.
That's a major upset. In every previous year going back to 2006, Google's royalty payments to Mozilla have increased by double-digit percentages, year-on-year.
And because Mozilla has no significant source of funding other than royalties – donations accounted for less than 1 per cent of its revenue in 2013 – that leaves it in the unenviable position of reporting a mere 1 per cent year-on-year growth in its total annual revenue.
Meanwhile, the foundation's total expenses for 2013 were up 42 per cent from 2012, just as its expenditures increased 43 per cent from 2011 to 2012. In fact, the steady annual increase in Mozilla's spend rate is the clearest trend that can be spotted from the nonprofit's annual financial reports.
Mozilla says it divides the money it spends between developing its product lines and funding education and community programs. Without a new source of funds, however, it won't be able to sustain its current rate of spending on either one, let alone keep increasing its expenditures each year.
This year's finance FAQ says, "We currently have several key business partnerships and are actively exploring new ones, as well as other potential revenue opportunities."
Here at The Reg, we'd love to find out what these are. But given that it's the nearly the end of 2014 and we're only now looking at Mozilla's 2013 numbers – and the Google money-faucet was still turned on for most of 2014 – it will be at least two years before we can properly see how the Firefox-maker's post-Google ambitions pan out. ®