IBM lifts axe, will trim UK workforce weeks before Chrimbo
All about 'rebalancing' don't yer know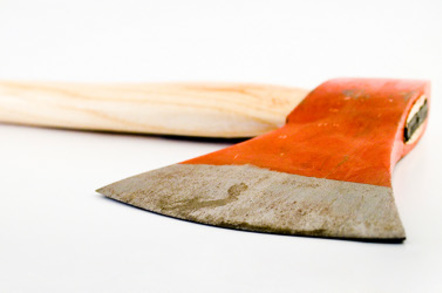 With only weeks to go before the good folk of Blighty sit down to tuck into their Chrimbo dinners, IBM has decided to swing the corporate axe to trim the local workforce.
According to company insiders, UK boss David Stokes yesterday hosted a phone conference with employees at 1pm to inform them of their fate.
"Stokes got over 60 people on a conference call to tell them they are at risk of redundancy. They have entered into a consultation period," said a person close to the matter.
The cuts are largely hitting the client execs from the Systems and Technology Group – the folk who spend all their time in front of customers that buy hardware – as well as some people in the channel team, sources told us.
The number of redundancies is a drop in the ocean compared to the 20,000 staffers Big Blue employs in the UK, but that will be scant consolation to those earmarked for redundancy.
Revenue growth is stalling at IBM, which is challenged on multiple fronts, not least the inevitable continued transition from a hardware company to a well integrated software and IT services company.
A problem for Big Blue is that it has a sales force, some of whom are still attached to the past way of selling technology, a channel that is wrestling with similar problems, and global economies that is still volatile.
A spokeswoman at IBM confirmed it is axing staff, "IBM can confirm that it has begun a consultation process with employee representative groups with a view to rebalancing its workforce in the UK". ®
Sponsored: Minds Mastering Machines - Call for papers now open