In a mall at the weekend? WORSE STILL, are you LOST?
Cambridge Silicon Radio intros SIRFusion ... for a knight in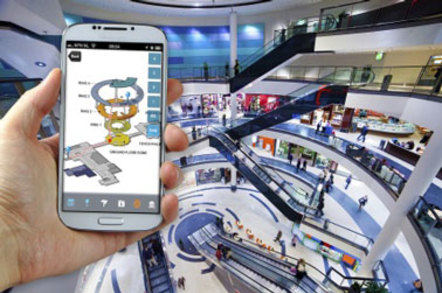 A new indoor positioning system has been unveiled by Bluetooth grandees Cambridge Silicon Radio. The system consists of Android middleware which gives access to a database of indoor positions.
While GPS works pretty well when it has a good view of the sky, indoor positioning is more of a challenge. The new SiRFusion library combines real-time Wi-Fi signals, GPS, pedestrian dead reckoning, and the company's cloud-based CSR Positioning Centre to calculate accurate indoor location. The dead reckoning uses the compass and movement sensors to work out where the user has moved to since the last reliable fix.
When a device knows where it is, it uploads the local radio information to the CSR server. When it doesn't know where it is, it looks at the local radio information and asks the server. The system automatically crowd-sources a venue's indoor Wi-Fi signatures as consumers walk through the location, and it has also been architected to accommodate future proximity and location technologies such as Bluetooth Smart beacons, Wi-Fi Round Trip Time (RTT) and Indoor Messaging System (IMES). CSR claims a typical accuracy of around 5m for a location such as a shopping centre and has released some case studies.
CSR sees the applications for this as being indoor location tagging and analytics for social networking applications, indoor navigation, lone worker efficiency and safety capabilities, as well as indoor asset tracking and targeted e-commerce services. It is, however, a library and will be used as developers see fit.
"Offering indoor positioning accurate enough to be useful has been a challenge that the industry has been trying to solve for many years," said Anthony Murray, senior veep of business group at CSR. "But with consumers coming to expect any time-anywhere positioning wherever they are, our customers have continued to express a growing interest for accurate indoor positioning without the need for additional infrastructure."
SiRFusion for Android can be integrated into any app running on Android version 4.4 or later. The SDK will be available for download in Q1 2015, and will include the SiRFusion library, API descriptions, and a Developer's Guide, a hardware version that will enable non-Android versions to be built will be launched at the end of 2015.
There will be a royalty-based model for using the software, although CSR wasn't able to give details on this. ®