HPC bods boogie to 68 new Top500 hits at New Orleans show
Intel, IBM and ARM flex flop-tastic muscles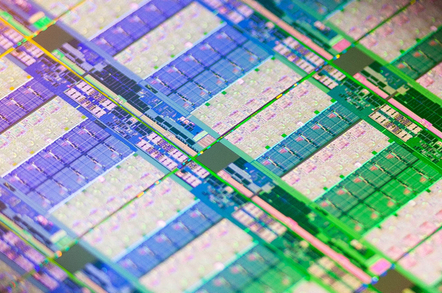 SC14 The SC14 supercomputer show at New Orleans saw Intel getting its Xeon, Phi and Lustre hooks into many suppliers, IBM pushing its POWER credentials and ARM punching in there too.
There was nothing dramatic, exascale computing not yet having been reached, but a lot of incremental improvements.
The November 2014 Top500 list has 68 new systems listed, with a total of 23.144 million deployed cores, 11.7 per cent more than a year ago. Total petafloppage is 308.9 petaflops, 23.5 per cent more than a year ago, and 50 systems have more than 1 petaflop of performance (there were just 37 a year ago).
The new systems include 32 from HP, 13 from Cray and three from IBM. Stifel Nicolaus MD Aaron Rakers believes this highlights "IBM's competitive dislocation in the supercomputing industry."
He produced a chart showing Cray catching up with IBM in the Top100 area: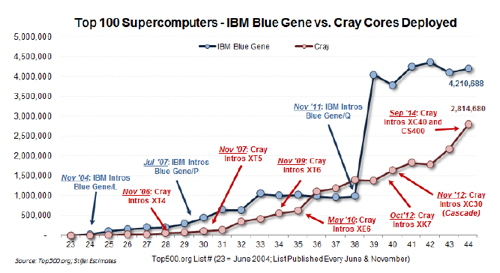 Stifel Nicolaus chart.
DataDirect Networks is one of the many firms working with Intel and has developed its EXAScaler Lustre appliance with over 4.8PB of usable storage using 6TB disk drives, 100MB/sec sustained scalable per-drive performance, up to 40GB/sec sustained throughput and up to 1.5 million IOPS.
DDN boasts about it Lustre metadata performance, in excess of 100,000 file creates per second. It uses a Lustre v2.5 client and has support for dual-rail InfiniBand. The Lustre is Intel's Engineered Edition for Lustre Software –can we say IEELS? EXAScaler can use DDN's backend SFA12KX and SFA7700X storage products.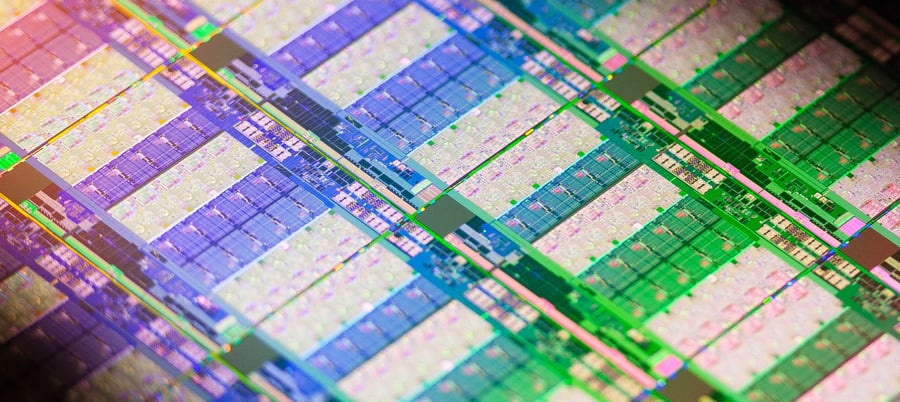 Part of Intel Xeon E7 v2 die
Cray is looking at using 64-bit ARM processors and other power- and performance-efficient processing technologies, such as custom ASICs and low-power Intel processors, for its supercomputers and data analytics systems. It has got a contract to do this from the US DoE's Office of Science and the National Nuclear Security Administration under a programme called FastForward 2.
It is also working with Cavium to deliver Cray clusters based on Cavium's 48-core work load-optimised ThunderX 64-bit ARMv8 Data Center and Cloud processors to analyse ARM use in supercomputing.
Power-efficiency is important for exascale computing, according to a canned quote from ARM CTO Mike Muller: "Planning for Exascale computing presents some significant power challenges to this industry … ARM welcomes Cray's pioneering research to explore how 64-bit ARM technology can improve performance density for future supercomputing platforms."
Cray has won an $80m contract to provide King Abdullah University of Science and Technology (KAUST) in Saudi Arabia with multiple Cray compute, storage and analytic systems:
XC40 supercomputer with DataWarp technology, named "Shaheen II" and 25 times more powerful than its current system.
Sonexion 2000 storage system.
Cray Tiered Adaptive Storage (TAS) system.
Urika-GD graph analytics appliance.
Sponsored: Becoming a Pragmatic Security Leader