YIKES: Combination of LIVING WOMAN and MACHINE sighted in NYC
Intel 'Mica'. At least it isn't pink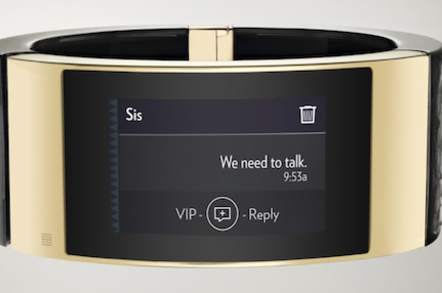 Intel has announced the release of a new smartwatch slash bracelet thing-a-ma-jig aimed at "fashion forward women".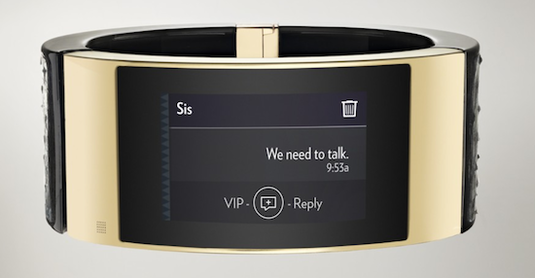 Mica, which stands for My Intelligent Communication Accessory, was unveiled at an event in New York last night.
The "feminine communications accessory" will go on sale in early December and offers access to text messages, Yelp, Gmail, Facebook events and Google Calendar. It features a touchscreen made of sapphire glass, which Apple is rumoured to be using in its own watch, if it ever gets released.
Yeah, you could get all of that on your phone, but Intel is hoping that women are eager to strap a rather flashy, blinged-up gizmo to their wrists instead of carrying around a mobe. It has worked with Opening Ceremony, a global retail chain, to design the gizmo.
So what do women want? According to Intel, they'd love a bracelet composed of semi-precious gems and snakeskin. Mica features "cutting-edge design" and comes in a number of styles, allowing customers to choose from "black water snake skin, pearls from China and lapis stones from Madagascar". If that sounds too normal, you can also opt for "white water snake skin, tiger's eye from South Africa and obsidian from Russia".
"Our pioneering collaboration with Opening Ceremony and the introduction of this category-defining smart jewellery piece advances wearable technology as a distinctively stylish accessory that places importance on both aesthetics and functionality," said Ayse Ildeniz, vice president and general manager for business development and strategy, New Devices Group at Intel Corporation.
"MICA captures Intel's philosophy that technology should enhance jewellery in order to make wearable technology truly 'wantable', in addition to seamless and productive."
It will first be sold by just a few retailers, including at the New York department store chain Barney's.
"Mobile technology really guides everything we do," said Daniella Vitale, Barney's chief operating officer. "The issue for many consumers on wearable technology lies in the fact that the devices typically are not attractive and are often times cumbersome.
"Intel had the prescience to create something functional but also beautiful and chic. We are excited to be the first on something that mirrors the Barneys strategy of a beautiful, exclusive and unique product."
The Mica will cost $495 and includes two years of wireless data from AT&T. It is available in the US only, charges using micro USB and has a battery life of up to two days. ®
Sponsored: Becoming a Pragmatic Security Leader