You know those WEIRD glass sheds in New York? They'll be replaced with Gbps WiFi
Pay-phones to be torn up and replaced with superhotspots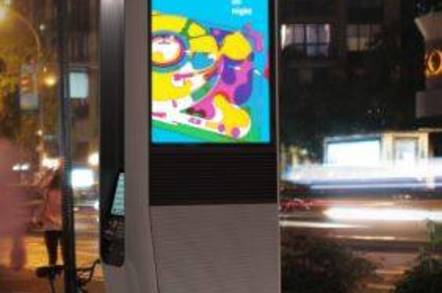 New York City could replace its payphones in five boroughs with Wi-Fi hubs, to build a superfast city-wide wireless internet network.
If approved by city officials and built, it would be the largest municipal Wi-Fi network in the world, we're told. The plan was drawn up by NYC Mayor Bill de Blasio and a consortium called LinkNYC. It ultimately promises free "gigabit" connectivity, wirelessly, across the city.
"This administration has been committed to expanding affordable access to broadband for all New Yorkers from the outset," said de Blasio on Monday.
"It's essential for everything we need to do to be a fair and just city, because we can't continue to have a digital divide that holds back so many of our citizens."
Under the plan, as many as 10,000 of the city's little-used phone booths will be uprooted and replaced with boxes housing public Wi-Fi hotspots; a tablet and dialing pad so people can make free voice calls; displays to show advertisements and public notices; and ports to charge things via USB (never a good idea to trust these things, however.)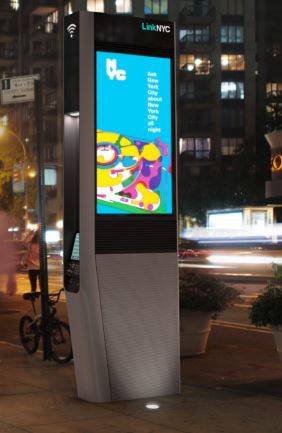 A mock-up of the planned Wi-Fi phone stations
The consortium, whose other backers include Qualcomm and Comark, hopes to build [PDF] the boxes in NYC, creating 150 new manufacturing, technology and advertising jobs for the city as well as 650 new jobs for those who would provide support services once the stands are installed.
The plan, which still has to be cleared by the city's Franchise and Concession Review Committee, calls for work to begin on the units some time next year with installations set to follow. The group claims the plan will not require any taxpayer funds and net the city as much as $500m in ad revenues over its first 12 years.
New York City has long had ambitions for a city-wide Wi-Fi network. The payphone-to-hotspot phone booth conversion dates back to pilot programs in 2012, and other projects have sought to add public Wi-Fi networks covering tens of thousands of residents. ®
Sponsored: Becoming a Pragmatic Security Leader