Soz, web devs: Google snatches its Wallet off the table
Killing off web service in 3 months... but app-happy bonkers are fine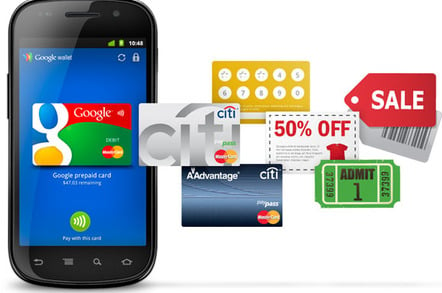 If you sell digital goods on a website using Google Wallet to take payment, you have a little over three months to find an alternative.
The service is being "retired" on 2 March 2015 and will not be replaced. Google argues that there are enough alternative solutions, which might translate to mean "no one was using it".
The withdrawal only affects web developers accepting payments for digital goods on their own websites using the Google Wallet for digital goods API, any apps can still use Google Play in-app billing to buy extra jewels, gems and lives. Similarly, if the user has the Wallet App, that's still good to go. This means that Android phones can still be bonked for NFC payments. Not that very many do.
And while developers and third parties can now no longer take payments over the web, Google can through Google Play, YouTube and the Chrome Web store.
Developers are being told to remove the integration from their sites and have been given a walk-through of what to do.
Switching with notice is fine for new customers. Google has given plenty of notice and – as it notes – there are alternatives. However, it will be an issue for online stores that have used Google Wallet for recurring payments as they will have to contact customers to get their credit card details again.
The customers are not being proactively contacted by Google so the first they'll hear of this will likely be an email from the merchant asking them "please give us your credit card details again". Hmm, that doesn't look like phishing...
Google will not be providing a replacement service. ®
Sponsored: Beyond the Data Frontier