DEATH fails to end mobile contract: Widow forced to take HUBBY's ASHES into shop
T-Mobile: Good coverage even beyond River Styx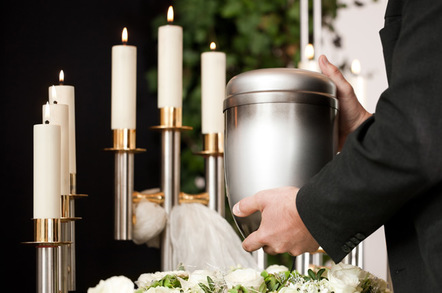 A widow was forced to take direct action against a T-Mobile shop after it repeatedly demanded payments for her dead husband's mobile.
Maria Raybould from Cardiff, Wales, arrived at the store with her hubby's ashes in an effort to stop T-Mobile from continuing to charge £26 per month by direct debit for a Samsung Galaxy Mini SII.
She claimed the shop had demanded proof that her husband David, who died in August, was in fact dead, according to Wales Online.
"I've been up to the shop with the death certificate, with a letter from the crematorium, the funeral bills – even his ashes. I took everything I could."
Despite all her efforts to end the mobe contract, Raybould said she then received a letter from bailiffs. T-Mobile told her to ignore the letter and said it had been sent in error.
Then, last week, a separate letter from T-Mobile arrived demanding an overdue payment of £129.48.
"They just don't seem to understand. I have tried and tried to get it through to them. The contract needs to stop. How much clearer can I make it to them? What more can I do?"
T-Mobile said in a statement:
We apologise to Mrs Raybould for any distress caused at this difficult time. We can confirm that the account has been closed and the balance cleared.
®