Hey, you, PHONE-FACE! Kickstarter in-car mobe mount will EMBED your phone into your MUG
Stick it on the steering wheel and wait for the airbag to fire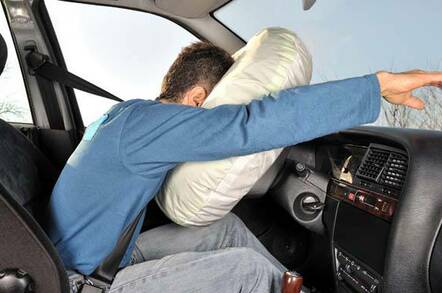 It's Friday, so we invite those of you who are counting down the seconds until pub o'clock to spot the fatal concept error in the Alfah Mobile - "a small suction free attachment that attaches the back of your mobile device to your steering wheel or dashboard for convenience and hands free driving".
This less-than-ingenious invention is currently the subject of a Kickstarter tin-rattle.
It's a half-hearted campaign, to be sure, with the associated website hardly an inspiring source of information on the Alfah Mobile.
Still, the protoproduct does benefit from a tremendous vid presented by Lea Haben, publisher of SmartFem magazine, described as "The Intelligent Guide For Women On The Go".
As our intelligent-women-readers-on-the-go will doubtless point out, sticking a cellphone between yourself and your car's driver airbag isn't the brightest idea ever conceived, unless you fancy becoming a potential recipient of embedded mobile technology.
Of course, you could use the Alfah Mobile to slap your mobe in a less inadvisable location, but there are already hundreds of mounts/holders/cradles out there that will do the job. ®