Don't like droopy results, NetApp? Develop server-side SAN
Declining revenues becoming a common theme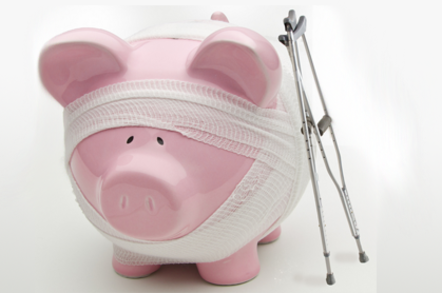 +Comment NetApp's second-quarter revenue number have confirmed its recent overall decline, with the storage and data management company trying to recover from several recent quarters of revenue falls.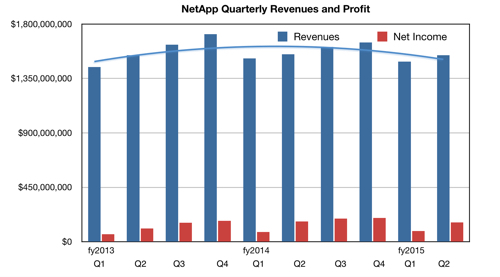 NetApp revenues to Q2 full year 2015 with polynomial trend line showing decline
A curve showing a long period of growth topped out in full year 2012, went flat the next year, and has turned down in full year 2014, continuing in the first two full year 2015 quarters.
We can put this in a longer-term context by showing a quarterly revenues chart starting from the third quarter of fiscal 2010.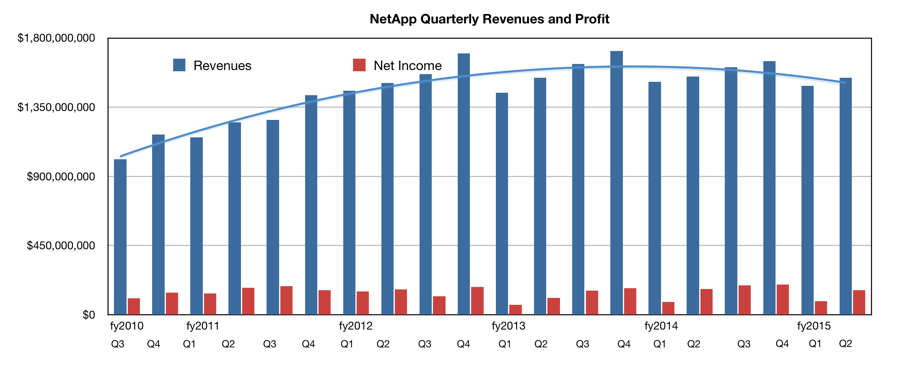 NetApp's quarterly revenues since Q3, full year 2010. Click to enlarge the chart.
Let's cover the Q2 numbers, then discuss why NetApp is declining, and what might be done to arrest that slump. Revenues of $1.54bn were reported for the quarter, 0.5 per cent down on a year ago, but showing the seasonal uplift from the preceding quarter's $1.49bn.
Profits were $160m, compared with $167m a year ago, 4 per cent lower. However, they were almost double the preceding quarter's $88m.
The outlook for next quarter is for revenues in the range of $1.56-$1.66bn, or $1.61bn at the mid-point, representing zero growth from the year-ago quarter's $1.61bn.
Aaron Rakers, the MD of analyst house Stifel Nicolaus, noted strong points in the results. "Total systems shipped increased 6 per cent year-on-year, during the October quarter, with strength in E-Series branded and its all-Flash solutions," he said.
Specifically:
Entry-level FAS2xxx shipments were down nine per cent year-on-year
Mid-range shipments (inclusive of the company's new FAS8020/40/60 solutions) were up five per cent
High-End (including the company's new FAS8080 EX) shipments were noted as up 3 per cent
FlexPod was up a substantial 50 per cent
However, when other revenue streams were added into these numbers, the results were much less impressive.
"We remain cautious on NetApp's mid- to long-term prospects as competition in the storage market has been heating up," said William Blair analyst Jason Ader, adding that "overall demand for traditional SAN/NAS disk-based systems is being disrupted by emerging trends such as the cloud, flash, hyper-converged systems, software-defined storage, and white box solutions."
"We also believe that the increased adoption of data reduction technologies is muting on-premise enterprise storage capacity needs and/or pressuring price per gigabyte," he added.
As lots of people have noticed, he commented that newer players, such as Nimble Storage, Nutanix and Pure, are succeeding against NetApp due to cost and performance advantages. Moreover, they're hiring NetApp sales reps to target NetApp accounts more effectively.
NetApp's FlashRay (all-flash array) is late to market, limited to a single controller and not that well integrated to the ONTAP mothership, giving competing all-flash arrays an advantage.
The OEM side of NetApp's business is in bad shape with IBM preferring to sell its own systems and Teradata growth slowing.
Sponsored: Minds Mastering Machines - Call for papers now open