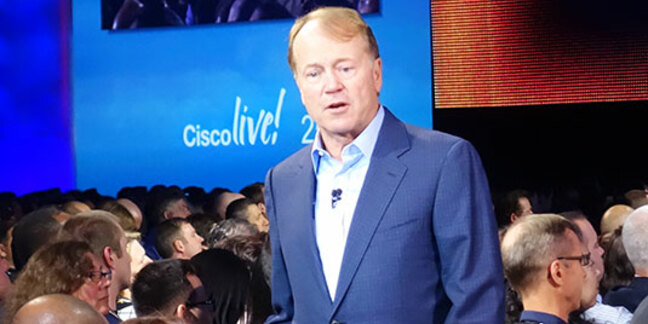 Cisco has farewelled its chief financial officer after announcing results that showed a still-beating heart somewhere in the giant switch market.
Net income for the Borg's first quarter was reported at US$1.8 billion, on revenue of $12.2 billion, about US$40 million ahead of Wall Street's expectations. The company also announced that CFO Frank Calderoni is stepping down on January 1, to be replaced by senior veep of business technology and operating finance Kelly Kramer.
John Chambers, reading from the slides, said Cisco's transformation means the company is moving from "selling boxes" to selling solutions "as we disrupt the market" (given Cisco's dominant position, El Reg is moved to wonder whether this means the Borg is demonstrating the first example of auto-disruption).
He claimed victory in the SDN market courtesy of the Nexus 9000 and ACI (application-centric infrastructure) product lines.
Chambers described Cisco's recent deals with General Motors, and the cities of Barcelona and Chicago as examples of the company's future. He also said the high-end switching and routing market is improving, but reduced spend at "several large US service providers" will impact the company's predictions for Q2.
The Asia-Pacific market was the under-performer for Cisco, with a year-on-year Q1 result 12 per cent down, while Americas rose by two per cent and EMEA rose by six per cent. US service providers were a real disappointment, down by 10 per cent (and that's not counting AT&T's threat to hold its gigabit fibre builds until it gets its way on the 'net neutrality debate). ®
Sponsored: Practical tips for Office 365 tenant-to-tenant migration