Ex-IBM x86 server chap joins flash-in-the-DRAM upstart
Alex Yost moves to Diablo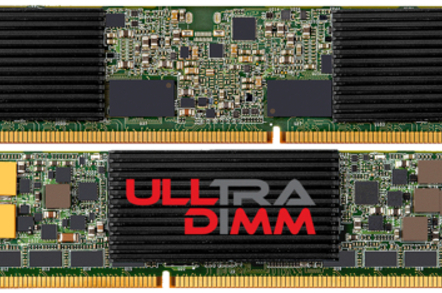 +Comment IBM x86 server veteran Alex Yost has joined Diablo Technologies as president and will manage the product lines and marketing.
Yost spent 18 years at IBM, rising to be its VP for Strategy and Alliances for the x86/Pure Systems product lines, before Lenovo bought the x86 server business.
According to his new firm, he was instrumental in building the x86 product line to the market share leader and as involved in bringing SanDisk's ULLtraDIMM tech to the IBM servers.
Diablo Technologies' main product is its Memory Channel Storage (MCS) technology, which helps puts flash chips in memory DIMM sockets, lowering data access latency below that of flash chips on PCIe cards. Diablo's main licensee is SanDisk's SMART unit, which sells its ULLtraDIMM product – based on MCS tech – to server vendors such as Lenovo, which inherited the OEM deal from IBM.
Other ULLtraDIMM OEM customers include Huawei and Supermicro. So far neither Dell nor HP, the two big server beasts in the jungle, have signed OEM deals, and neither have Cisco nor Hitachi/HDS. Oracle with its servers and Fujitsu with its Primergy servers are other prospects.
Comment
We think Diablo and Yost's biggest challenge is to help SanDisk to get Cisco, Dell, Fujitsu, HP and Hitachi/HDS, and Oracle signed up to take SanDisk's ULLtraDIMM technology.
How frustrating it might be to have to play second fiddle to SanDisk in this sales effort. Diablo CEO Ricardo Baddalone, to whom Yost will report, said: "Memory Channel Storage is gaining wide adoption in the enterprise."
However, unless Diablo has signed up other partners alongside SanDisk, then SanDisk's OEMs are Diablo's only route to enterprises. We doubt, for example, there are more than 20 or 30 enterprise customers actually using ULLtraDIMM products today and that hardly constitutes "wide adoption".
Yost has Diablo's profit and loss responsibility. His other marketing challenge, as we see it, will be to sign up more licensees like SanDisk, businesses which can twin MCS tech and flash chips to create flash DIMMs.
Disk and flash array vendors need servers for their controllers and they may have the engineering smarts to do this. Other flash foundry operators may be prospects too, if the SanDisk licensing terms permit. We're thinking of Hynix, Micron, Samsung and SanDisk partner Toshiba.
It's a long game Diablo is playing here. It must be hoping that SanDisk's ULLtraDIMM future is ULLtraBRIGHT, and it also has to hope that it can sew up more needed OEM deals before a competitor comes along with similar technology. ®
Sponsored: Beyond the Data Frontier