Vodafone's 4G investment is beginning to pay off
Voda to focus on beating BT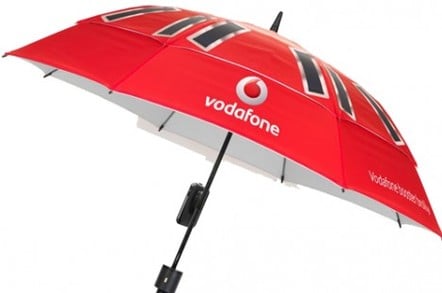 What matters in results isn't how good or bad they are, but how they compare with what lots of very highly paid people have been calculating they would be.
This makes the Vodafone results for the six months to 30 September 2014 good. While the Earnings Before Tax, Depreciation and Amortisation (EBITDA) from-day-to-day business was down 10 per cent, that's better than the predictions. So everyone is happy.
The numbers are huge. Vodafone's revenue for the six months was £20.75bn, or around £1,300 a second. The overall figures are skewed by Vodafone's buying and selling of businesses – in particular where Vodafone has sold off shares in businesses where it didn't have majority ownership – such as its 49 per cent holding in Vodafone Fiji.
The money under the mattress from the $130bn sale of its share in Verizon Wireless has mostly been spent on fixed line companies such as Kabel in Germany and Ono in Spain to provide a wider range of products to sell to consumers and the much needed backhaul for high speed mobile internet.
That product spread will hit the UK with Vodafone planning to offer fixed broadband using the Cable and Wireless network it bought in 2012. Vodafone offers 200MB/s in Germany, so we can but hope for something to rival Virgin.
Vodafone, however, is more focused on BT as a rival and will use the fixed broadband to counter BT's move into mobile with the 4G spectrum and EE MVNO deal, which will be launching soon.
The sales and acquisitions mean the numbers which the moneymen have concentrated on are the organic figures, which give a better flavour of how the business is performing. The drop in Organic EBITA isn't just less than predicted, Vodafone has given guidance that by the end of the year it will only be eight per cent year on year.
The 5.7 per cent service revenue growth in emerging markets has helped balance a 6.5 per cent fall in Europe, with Spain and Italy being particularly weak, albeit not as weak as in the previous six months. Spain's down 12 per cent compared to 13 per cent for the six months prior and Italy down 13 per cent compared to 20 per cent. The UK revenue drop was only three per cent. The star performer was India, with organic revenue growth of nearly 12 per cent.
Vodafone is spending a lot of money on rolling out 4G. The company says:
Our two year programme to invest £19 billion to accelerate and extend our network and service differentiation in our key markets is progressing well. We are on track to meet our planned network deployment targets, with 21,000 4G sites and 38,000 new high capacity backhaul sites, added since last September. As a result the 4G network in Europe now covers 59% of the population, up from 32% a year ago, and 82% of data sessions take place at speeds greater than 3 Mbps. Over the same period in India we added approximately 12,400 3G sites and now provide 3G coverage across 89% of targeted urban areas.
As the investment starts to pay off, and turns the slide in organic revenue into growth, it looks as though there could be more black ink to come. ®
Sponsored: Your Guide to Becoming Truly Data-Driven with Unrivalled Data Analytics Performance