Japan: Land of cheap booze and slippers in the office
No, the two aren't related, says chap who moved from Swindon to Tokyo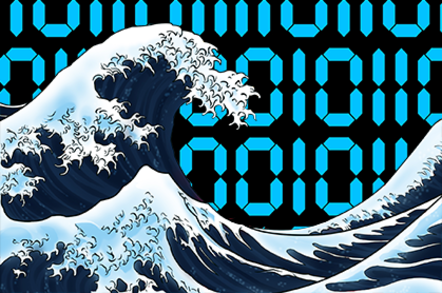 The eXpat files In this week's eXpat files, love is the motivator for British chap Stephen Chadfield to make a new start in Japan, where he endures daily workplace workouts and has the chance to drink cheap booze.
Over to you, Stephen ...
The Register: What kind of work do you do and with which technologies?
Chadfield: My current job is focused on developing an in-house ERP system for an export company. It is a custom Java application running on GlassFish. We also have a Magento based web store. Keywords: Linux, HTML, JSP, Java, Javascript and PHP.
The Register: Where's home and why did you want to leave?
Chadfield
: Before moving to Japan I spent over 20 years working in the Design Services department of a Swindon-based semiconductor company.
I married a Japanese woman and as she has children in school in Japan it was less disruptive for me to move to Japan than it was for her to emigrate to the UK with her family. Also the (then) new coalition government were making her potential immigration to UK more difficult with stricter requirements.
The Register: Why Japan?
Chadfield: My wife is Japanese. I love ramen.
The Register: How did you arrange your new gig?
Chadfield
: I originally followed the traditional path for those with limited Japanese language skills of teaching English conversation.
As my contract for that job was coming to an end I was fortunate enough to find an IT job using the government run employment service "Hello Work". They have a Japanese language online vacancy database which I was able to search using web browser translation tools.
The staff at my local Hello Work branch were very helpful and arranged interviews for me. Having basic Japanese language skills was very helpful.
The Register: Pay: up or down?
Chadfield: I am earning less than I was in the UK but that is understandable as I have changed from a field in which I was very experienced to something new.
The Register: How do workplaces differ between home and Japan?
Chadfield: The day starts with rajio taisō (daily exercise) and we all wear slippers in the office. In the first year I only get 10 days paid holiday. The company pays for health insurance and the cost of my daily commute. Other than that it is a reassuringly familiar office full of computers and geeks.
The Register: What's cheaper in Japan? What's more expensive?
Chadfield: Eating out is much cheaper here - and the food is awesome. Alcohol is cheaper too because they do not have ridiculous, punitive taxation on it. What is expensive? Fruit? Brussels sprouts? I also have to pay some of my medical treatment costs.
The Register: What will you miss about Japan when or if you go home?
Chadfield: Great food (both in supermarkets and restaurants). Awesome customer service. Better weather and wonderful plants and flowers. The optimism and friendliness of the Japanese people.
The Register: What's your top tip to help new arrivals settle in?
Chadfield: Very little English is spoken here: study Japanese.
The Register: What advice would you offer someone considering the same move?
Chadfield: Teaching English conversation really is a bottom-of-the-barrel opportunity. It can be a useful stepping stone but always have some plan for moving on to real work.
The Register: How easy is it to watch your favourite sportsball team in Japan?
Chadfield: Using smart DNS services or bittorrent downloads to access UK TV services is immoral - but it works ...
The Register: Expat communities: embrace, graze when you need a reminder of home or stay away from those grumblebums who always complain about being here?
Chadfield: I personally don't have much contact with other expats. I like to spend my valuable free time with my family.
The Register: And because this is the weekend edition, what can you do on weekends in Japan that you can't do at home?
Chadfield: My weekends here are very ordinary! Apart from free Japanese lessons provided by the city I do usual weekend activities: gym, eating out, shopping, cinema and trips to local parks.
The Reg is always on the lookout for more tales of expat adventure. If you are an expat or know one you think we should profile, click here for a good time. ®
Sponsored: Detecting cyber attacks as a small to medium business