Microsoft's 'loss leader' Office 365 pricing strategy? NO THANKS
Partners survive on thin margin as it is, the hordes tell us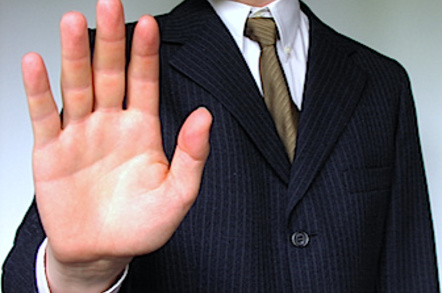 Microsoft's advice to its channel partners to sell Office 365 as a loss leader to lure in small and medium sized customers is not something that sits well with suppliers, at least not in Blighty.
Thomas Hansen, worldwide veep for Microsoft's Small and Medium Business organisation told attendees at the Asian Canalys Channels Forum they should be prepared to lose some bottom line goodness in the first instance.
"Partners who are a little more flexible with profit on a first sale, win," he said, before adding, "Get in with a customer, build the trust, provide the first service and then, over time, cross-sell and upsell".
This strategy, he claimed, is "resonating very well", so El Chan chucked a couple of calls into Microsoft suppliers to see if the big cheese was correct or not. It seems not.
"The strategy outlined of leading at a loss doesn't offer a clear end goal or gain for the channel," said James Rigby, CEO at SCC, which is a licensing solutions partner for Microsoft.
"The channel already operates on modest margins and should rightly have an expectation of retaining a reasonable profit," he added.
Stuart Fenton, former EMEA president at Insight Enterprises – Microsoft's largest LSP – who now owns and runs Dynamix AX and NAV biz QuantiQ, echoed those sentiments.
"If one were to assess the ability for Microsoft or the channel to buy market share, I'd suggest the cards are stacked in Microsoft's favour. The channel lives on thin margins," he said.
He said the back-end incentives Microsoft provides to resell Office 365 were not sufficient to allow partners to go in at a loss.
"That said, I think it is inevitable that Office 365 will take significant market share over the coming years, potentially rendering on-premise Office to a minority share of Office users".
Sales staff are paid on margin and profit and "can't afford to sell products at a loss", said Martin Hellawell, CEO at Microsoft LSP Softcat.
"I don't believe in the principle that you need to sell at a loss on the first sale [to get a foot in the door]. I want to make money out of all we do to build a long-term sustainable business."
Using a Trojan horse pricing strategy to get into a customer would "annoy" customers and potentially sets false expectations, said Tim Wallis, CEO at Microsoft cloud poster boy Content and Code.
He said customers require training to increase usage of Microsoft's online services and that comes at a cost. "Microsoft should want partners to do a better job of selling services, not going for the cheapest price."
Microsoft previously told channel partners at WPC last year that competing with Google Apps on price was a waste of time.
Theresa Connor, who works on US competitive strategy for productivity at Microsoft, said the "minute you engage in a price conversation it's very difficult to compete". ®
Sponsored: Minds Mastering Machines - Call for papers now open