Is new EU digi chief H-dot Oettinger starting a war with his boss?
Gaffe-prone Gunther calls EC Vice President Ansip a 'leftover'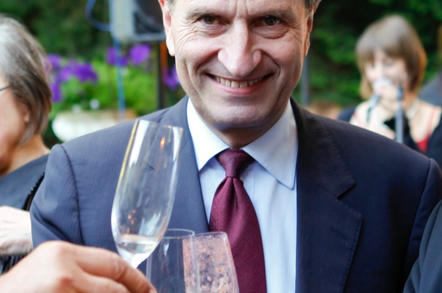 Things not to do in the first week of your new job: slag off the boss. It seems this memo bypassed the EU's new digital chief Gunther H-dot Oettinger.
The new European Commission structure is different to the one Oetti is used to. The new Commission, which took over on 1 November, has seven senior vice presidents in charge of 20 commissioners.
But while speaking at Germany's Bundestag on Tuesday, Oettinger described his VP, Andrus Ansip, as a "leftover". He was responding to a question by Halina Wawzyniak, a Left Party politician.
Oettinger said that there weren't enough important jobs at the Commission, so the seven "leftovers" had been given clerical positions. Officially, Ansip's job is to oversee all aspects of the "Digital Single Market" but Oettinger claimed he wouldn't get a look in on any sections of his portfolio unless it intersected with other commissioners.
According to Oettinger, all digital competences lie with him and Ansip is a mere coordinator. This might explain why, despite requests from the Ansip camp, the two have yet to have a formal meeting. Brussels insiders say it is an open secret that Oettinger did not want the digital portfolio, but now that he has it, he won't tolerate any interference from "upstairs".
On issues of policy, Oettinger touted the idea of a single copyright regulation. Meanwhile, in a speech to the Association of German Magazine Publishers on Thursday, he said: "I'm not against Google. But Google cannot take advantage of monopoly."
Of course, Google dominance isn't within his portfolio, it falls to the Competition Commissioner Margrethe Vestager. Who's stepping on whose toes now?
Commission sources said that the two will have to get along, and that there were no signs of antagonism at the first weekly meeting of the new commission on Wednesday. However, given that the Bundestag hearing was ostensibly private, news of Oettinger's comments may not have reached Ansip.®
Sponsored: Detecting cyber attacks as a small to medium business