Down in the Dell, Compellent and EqualLogic are stirring
All-flash arrays now somehting of a minority interest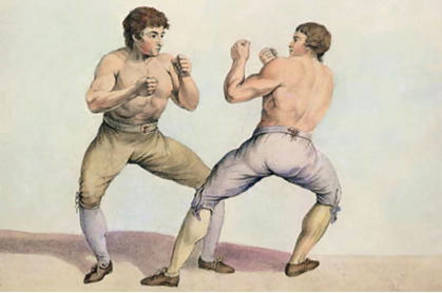 Dell is punching out new products like a featherweight fighter determined to defeat opponents with speed and agility, as well as hitting power. It's added new systems to both its Compellent and EqualLogic arrays within its Dell Storage line and announced an XC converged server/storage system.
An all-flash configuration of the SC4020 entry-level Compellent array costs $25,000. Dell thinks this will make it one of if the lowest-priced all-flash arrays around.

SC4020 all-flash array
It has 2.8TB of raw storage and 2.0TB of usable storage, using six 480GB SSDs, and is half the price of the previous all-flash SC4020. You can lift its capacity by adding 7.2K rpm disk drives, Dell believing, really believing, it's a hybrid flash/disk array needed out there. Some 98 per cent of its storage customers are deploying flash with disk in their arrays.
For Dell, all-flash array purity is a minority interest.
The PS4210 Series — there's more than one — is a new entry-level to the dual-controller EqualLogic-based PS storage line. It uses 10GbitE iSCSI access and includes the first entry-level hybrid flash and disk array in the PS line. Overall the product line offers up to 48TB of capacity in its 2U enclosure with both 2.5-inch and 3.5-inch drive options.

PS4210
A quick product line summary:
PS4210E — up to 12 x 3.5-inch hot plug drives and 48TB (capacity)
PS4210X — 24 x 2.5-inch 10K SAS disk — to 28.8TB (better performance)
PS4210XV — 24 x 10K SAS disks — to 7.2TB (faster performance)
PS4210 XV — 3.5-inch — 12 x 15K 3.5-inch SAS disks — 7.2TB (fewer spindles than XV)
PS4210XS — the hybrid with 7 x 400GB SSD and 17 x 10K 2.5-inch disk — to 13TB (fastest performer).
The PS4210 has twice the cache and twice the number of 10GbitE ports of the PS4110. The hybrid model has a 6x performance improvement over the previous line.
Dell said this 4210 line is for SMBs and remote office/branch office applications. Some 150,000 EqualLogic arrays have been shipped to customers, 50,000 in the last two years.
For web-scale users the XC Series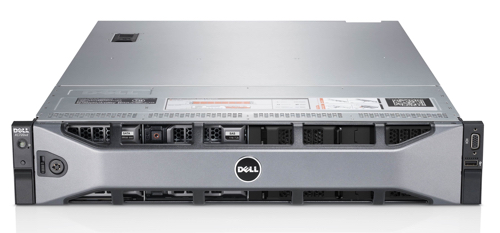 XC-Series
The result of the Dell OEM agreement with hyper converged system start-up Nutanix is the XC Series. This adds Nutanix software to Dell PowerEdge server and storage hardware and there are five product models. They scale out and are designed to fit a range of applications, from VDI and other enterprise business applications in the data centre to general branch office needs.
Both VMware ESXi and Microsoft Hyper-V hypervisors are supported.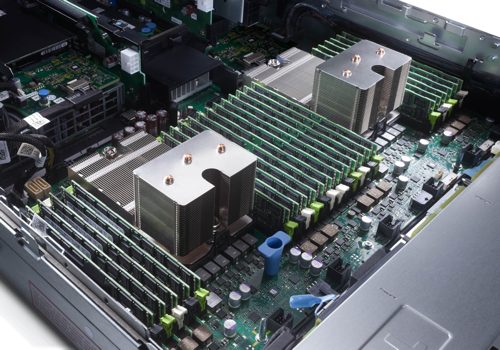 Underneath the XC Series' cover
There are five XC720D models:
XC720XD-A5 — dual E52620v2 CPUs, 2 x 200GB SSD, 4 x 1TB HDD
B5 — dual E52650v2 CPUs, 2 x 400GB SSD, 4 x 1TB HDD
B7 — dual E52680v2 CPUs, 2 x 400GB SSD, 4 x 1TB HDD
C5 — dual E52690v2 CPUs, 2 x 800GB SSD, 10 x 2TB HDD
C7 — dual E52690v2 CPUs, 4 x 800GB SSD, 8 x 2TB HDD
This line-up does not correlate exactly to the Nutanix NX-nnnn line which can be seen here (pdf).
Find more information about Dell's XC-Series here.
Dell also has a new PowerEdge FX2 line of converged server/storage systems which have modularised server and storage blocks fitting into a 2U enclosure.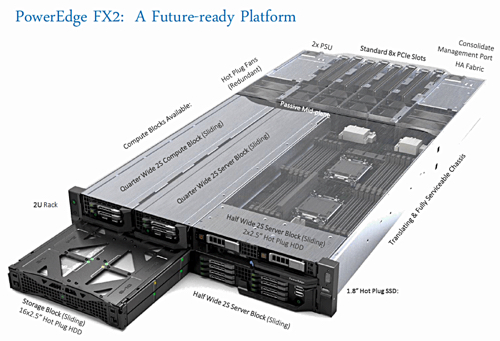 PowerEdge FX2 converged server/storage systems
These are quite complex systems in a component sense and you can dive in here to find out more.
Dell, freed of the 90-day SEC reporting requirements of a public company and the unwelcome interest of activist investors, such as those afflicting EMC, Riverbed, Emulex, NetApp and others, is no longer lumbering around like a heavyweight fighter. It's relishing its privately-owned freedom of action, comparing itself favourably to HP, which is having to split in two to try and regain its mojo. Dell developments in products and marketing should continue to come thick and fast.
The all-flash, entry-level SC4020 will be shipping in early 2015. Dell XC Series appliances, sold by Dell sales teams and channel partners worldwide, will be generally available from November 11. ®
Sponsored: From CDO to CEO