'You have no right to see me naked!' Suddenly, everyone wakes up at the Google-EU face-off
Web ad giant's 'PR roadshow' finishes in Brussels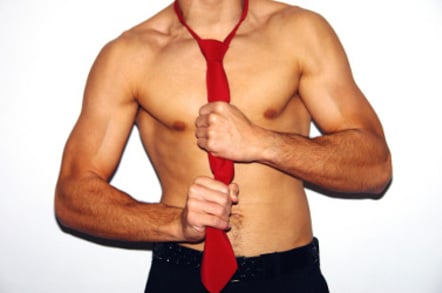 "You have no right to see me naked!" Paul Nemitz, the European Commission's director of fundamental rights, told Google this week. "A world in which everybody can see everybody naked is wrong."
He was speaking during the finale of the US giant's "right to be forgotten" roadshow – a string of summits organized by the search monster's advisory council to discuss privacy versus the public's right to know in Europe.
The final meeting was held on Tuesday in Brussels, and Nemitz was one of eight "experts" giving feedback to the panel. (And when he said "naked", he was referring to any personal information exposed on the internet rather than just intimate selfies and the like.)
Eventually, the council will draw up non-binding, non-legally enforceable guidelines for Google when implementing the European Court of Justice's May ruling that a search engine is a "data processor" under EU law – and as such is subject to certain rules regarding privacy.
What has been widely touted as a right-to-be-forgotten is in fact a right-to-be-removed from search results associated with your name under certain circumstances – a long way from a right to be forgotten. For instance, the information to be de-indexed has to be "outdated" before the search site should comply with a takedown request.
But that hasn't stopped more than 150,000 people demanding Google "forgets" links to embarrassing web articles about them.
The first speaker was Patrick Van Eecke, a lawyer at DLA Piper, who suggested Google's online form for those wanting to submit a request was too "easy" to fill in. He said that the "data subject" (that's a person to you and me) should first go to the publisher of the information to have the material taken down, and only pursue search engines if that route proves unsuccessful.
Other speakers, such as Jodie Ginsberg, CEO of Index on Censorship, said the ECJ ruling was too vague, saying that interpreting the meaning of "outdated" or "irrelevant" information as described in the court ruling was very difficult. "It would be more relevant to look at the element of harm," she said. "Making information more difficult to find is one of the hallmarks of censorship."
'Google does not define countries!'
Nemitz also took up the issue of the Google.com domain. Currently the company only de-lists information from searches performed on European Google domains such as google.co.uk and google.fr. Nemitz reckoned the ruling should apply to Google.com.
"Google does not define countries! A domain is not a country nor a jurisdiction," he said.
That's an opinion shared by Hielke Hijmans, privacy expert and former head of unit at the European Data Protection Supervisor's office. "The best solution would be that links from Google.com also be removed otherwise the intention of this ruling could be circumvented," he said. Indeed, someone in Europe needs only to hop over to google.com to find the censored links.
At the end of his outburst speech, Nemitz threw down the gauntlet to Google by comparing the right-to-be-forgotten ruling to "the right not be surveilled by private or public parties", which he said was a "key fundamental freedom." Instead of lobbying European authorities on search results, "I suggest you go back to the US and do the same on NSA [spying] activities," Nemitz fumed.
David Drummond, chief legal officer for Google, said the American advertising network was working the US government to deal with the NSA's mass snooping on innocent netizens.
Drummond also tried to explain why search results from google.com are not filtered: if the company obeyed the ECJ ruling across all of its domains, it would have to use visitors' IP addresses to determine their whereabouts and hide certain links when searches are made within Europe – and locating people by IP address is simply unreliable.
"Both solutions are imperfect. With IP blockers it's also easy to get around as well," he added.
He also argued that extending the ECJ ruling to non-Euro nations would be the same as authoritarian regimes (cough, China) forcing Google to block links to material it doesn't like (cough, Tiananmen square) across the world.
Brussels was the last stop for the council on its tour of seven European cities, and the panel will now draw up a report to be published in January. But after more than 30 hours of discussions, the group will only come up with "suggested guidelines" prompting the always outspoken Nemitz to imply the whole show was little more than a PR exercise. Something vehemently denied by the panel.
"This will all be public," said Sylvie Kauffmann, editorial director of Le Monde and a member of Google's council. "We are not paid by Google, nor have we signed any confidentiality agreement." She can expect a call from Reg hacks, then. ®
Sponsored: What next after Netezza?