Nexenta snuggles up to Seagate's spinning models
Object storage software now talks to firm's HDDs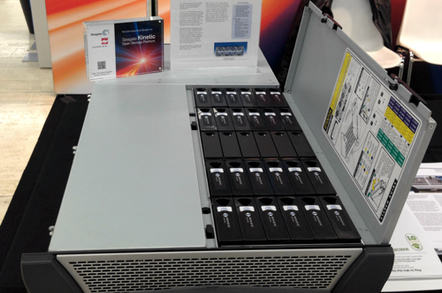 Nexenta has joined the ranks of Seagate Kinetic drive supporters by extending its object storage software to support Seagate's direct-access spinners.
The Kinetic drives use object-style access commands such as Get and Put, and have individual IP addresses with Ethernet capabilities embedded in each drive. The idea is that applications address them directly without any intervening storage server or traditional storage access stack.
NexentaEdge, Nexenta's object storage software running in clustered server nodes, using and aggregating each server's direct-attached storage, is supporting Seagate's Kinetic drives with a 2-phase strategy.
The hardware involves servers fitted with 60-slot, 4U Kinetic drive enclosures from Newsys, Quanta or some other manufacturer, providing 240TB of raw capacity with 4TB drives.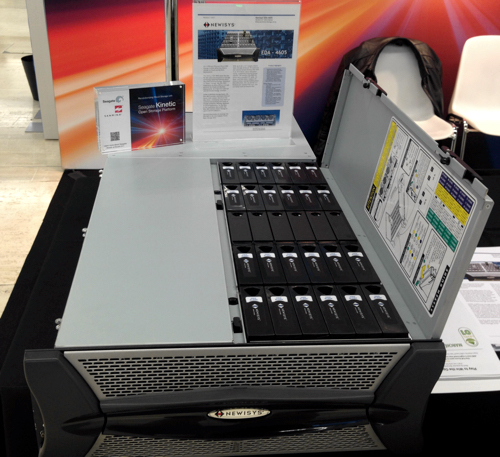 Newsys 60-drive Kinetic disk enclosure
Edge uses Nexenta's own Replicast protocol for server-to-server communications, and it is based on UDP. Kinetic drives use TCP in contrast. Phase 1 has each NexentaEdge server having a gateway function which converts Replicast UDP messages to TCP.
Phase 2 has Seagate and Nexenta working to extend UDP direct to the drives. There's no timescale for this but we reckon the mid-point of next year might see the work done. The performance and cost structure of a Nexenta Edge/Kinetic drive system will be interesting to see, as will its scalability.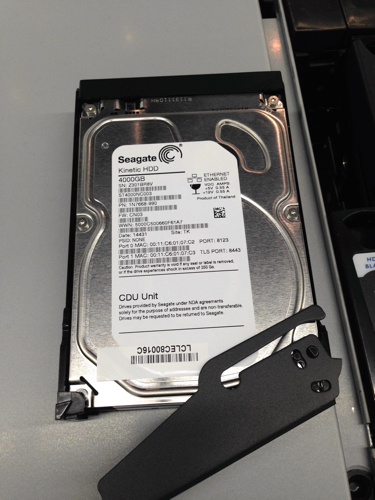 4TB Kinetic disk drive. We just know capacity will rise to 6TB and beyond soon enough.
This could be DDN WOS and IBM Elastic Storage levels of scalability without the relatively high prices of such systems. And if Nexenta scores highly on performance then it could have a really attractive system for its reselling partners. ®
Sponsored: Becoming a Pragmatic Security Leader