HP's pet lizard is feral peril says wildlife group
Calls for boy-and-his-lizard tear-jerker to point out iguanas are illegal in Oz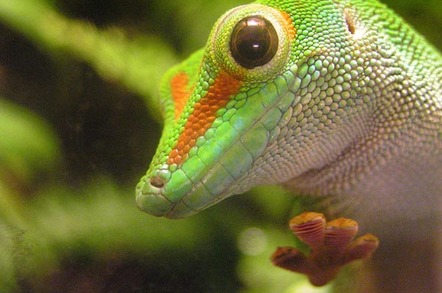 HP's current mega global branding campaign involves a cute kid who loses his pet green iguana named Ralph. An HP laptop and printer later, he festoons his neighbourhood with posters of the plucky pet, resulting in a boy-and-his-iguana tear-jerker for the ages.
So far, so cute.
But not in Australia, which has a long history of introduced species overrunning locals. Rabbits, camels, foxes and the cane toad are all imported pests in Australia. The latter was introduced to stop another pest but is now a worse problem than the one it was introduced to solve.
The problem is so acute that Australia now has an Invasive Species Council aimed at "stopping new invasive species from entering the country and preventing the spread of those weeds and pests that have already established a foothold in Australia."
The council's seen HP's Ralph ads and feels they have two problems.
Firstly, the Council doesn't like the dubbing of an Australian kid's voice onto what is clearly a US-made ad.
More importantly, the Council says it's illegal to own green iguanas like Ralph in Australia, a fact that the Council says makes HP's ad "an embarrassing gaffe."
The Council's beef is that prominent media placements of cute animals result in more people buying them as pets. "This happened with clownfish due to Finding Nemo," the Council sternly intones.
Clownfish need complex and expensive marine fish tanks. Iguanas don't and the Council thinks that more demand for Ralphs could have unpleasant consequences.
"Like crocodiles, green iguanas make appealing pets when young, but may grow up to two metres long and weigh about 9kg, increasing the risk that illegal pets will be dumped in the bush," the Council warns. That's bad because, presumably, dumped Ralphs will go feral, eat local wildlife and perhaps breed.
"The fact that HP was oblivious to the threat also shows that much more needs to be done by authorities to warn of the dangers of illegal pet ownership," the Council says, adding that it has written to the company "requesting that they immediately halt their irresponsible campaign and warn their legion of Twitter, Instagram and Facebook friends that keeping the green iguana in Australia is illegal." ®
Sponsored: Becoming a Pragmatic Security Leader