Rich techbro CEOs told to sleep rough before slamming the poor
'The biggest problem isn't Ebola or ISIS — it's income inequality'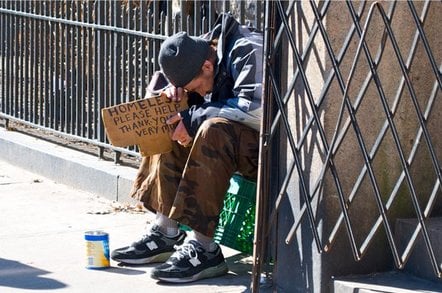 The US congresswoman who represents some of the wealthiest areas of Silicon Valley has challenged technology moneybags to get some perspective on life – by sleeping rough or living off state handouts.
House Representative Jackie Speier (D-CA) said tech executives in the Bay Area should try living as the poor do to better understand poverty and the significance of the region's massive income gap.
"We need to get CEOs to do two things: live on food stamps for a week, or spend a night in a homeless shelter," Speier said in an interview with USA Today this week.
"It is a very humbling experience."
Speier represents California's 14th district, an area that stretches from the southwest corner of San Francisco down through the peninsula into tech hotbeds such as Sunnyvale, Mountain View and Menlo Park as well as some of the poorest communities in the region in area with cities such as East Palo Alto.
She said that many of the multi-billion dollar companies that call her congressional district home could be doing much more to help the area's poor. As it is, Speier claims that companies are only giving the bare minimum.
"The biggest problem in this country isn't Ebola or ISIS — it's income inequality," Speier said. "It affects everything."
The income gap has become a hot-button issue for many in the technology sector, particularly in Northern California's Bay Area, where a growing class of wealthy tech employees in Silicon Valley and San Francisco have been blamed for driving up rents and pushing lower-income residents out of their homes.
One such hotbed for that conflict is the Mission in San Francisco, where long-time residents of the traditionally Hispanic neighborhood are clashing with young tech workers who have money to burn and are lured by the area's proximity to SF's restaurants and night life.
The conflict has come to an ugly head on several occasions, for example when techies tried to muscle kids off a public play field and a startup CEO who branded San Francisco's poor "degenerates." Perhaps Speier has a point. ®
Sponsored: Becoming a Pragmatic Security Leader