Brit telco goes shopping again, tosses Telindus UK into trolley
Marconi rump intent on jazzing up its IP networking skills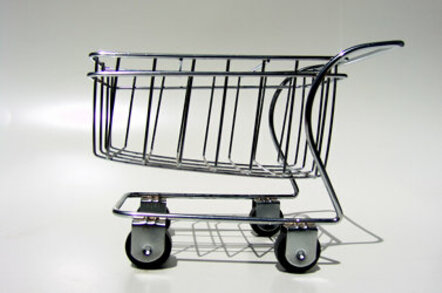 British telco telent has hoovered up troubled network service provider Telindus UK for an undisclosed sum, its second major acquisition this year, as market convergence moves gains pace with cloud seemingly the meeting point.
This is the latest carve up of the Telindus Group, owned by Belgacom, with the Spanish and Irish ops offloaded in 2011, and the French business sold to Vivendi for €95m months ago, leaving it with offices only in the Benelux.
Mark Plato, CEO of telent, said the deal beefs up its skills in IP networking and the wider infrastructure by adding Gold partner badges from Cisco and Microsoft, along with accreditation from EMC and Symantec.
Telindus sells to both commercial and public sector organisations in verticals such as defence, media and healthcare, and cloud and hosting providers. Customers include Virgin Media and BA, and the deal will "significantly expand our sphere of activity" and "additional scale to address the UK market" said Telindus UK boss Marek Lowther.
"We have been investing in growing our capability in IP networking and in the delivery of end-to-end ICT solutions for some time now," Plato trilled, claiming the buy gives it added "scale, expertise and engineering base".
Earlier this year telent acquired the business of voice processing and comm specialist Voice Perfect, and took a 25 per cent stake in security and information biz CNS Group.
telent is split into three primary business units — Network Services; asset management for transport companies including Network Rail, TfL, Stagecoach and First Group, and Technology Solutions; and the design, installation and integration of new and replacement networks, applications and systems.
Revenues for fiscal 2013 to the end of March were £321m, up from £318.2m, and it posted an operating profit of £15.7m, up from £11.5m.
From its Camberley-based HQ and labs — which will remain open for business — Telindus turned over £53.8m in calendar 2013, way down on the £61.5m in the prior year. The firm described this as a "very tough trading" period.
It reported an operating loss of £5.6m (worse that the £2.59m operating loss a year earlier), and said that despite the pick up in the economy it saw "caution and delays" in capital expenditure and services projects.
Telindus employed 174 staff last year. ®
Sponsored: Minds Mastering Machines - Call for papers now open