Verizon and AT&T sitting in a tree, V-o-L-T-E: Duo vow to hookup by 2015
It really does take two to tango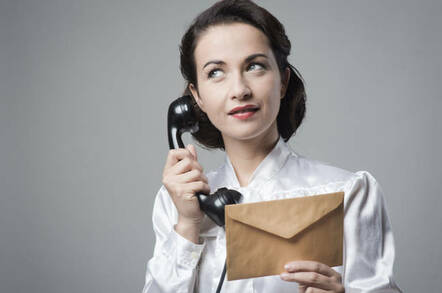 Verizon and AT&T are lashing together their voice-over-LTE (VoLTE) networks in the US – so people on Verizon can make high-quality calls and video chats to those on AT&T, and vice versa.
The telco pair – America's largest US mobile carriers – confirmed in a joint statement on Monday that they're hoping to complete the hookup sometime in 2015. Verizon and AT&T each rolled out VoLTE support earlier this year.
While the two carriers boasted of the benefits of VoLTE – particularly the potential for video calls – there are some implementation hurdles: sorting out billing internally between operators can be tricky, for example.
VoLTE works by routing calls, be it audio and/or video, over mobile data networks rather than traditional audio-only channels. It's also supposed to pave the way for gradually switching off legacy networks, leaving just voice-over-IP and internet data flying through the ether – but obviously only when there are enough people using the thing.
Crucially, both ends of the call have to support VoLTE and carry the data all the way through for it to work properly, hence the interoperability agreement announced this week.
"Interoperability among all VoLTE providers takes connectivity to the next level with HD quality voice and additional features that customers want," said Verizon CTO Tony Melone.
"We're pleased to be working with AT&T as our first interoperating carrier, and we look forward to working with other operators as VoLTE continues to grow."
Among those carriers who could soon partner with Verizon is T-Mobile US. Never one to ruffle feathers or speak out of turn, T-Mob US CEO John Legere offered the two larger foes an olive branch in his usual soft-spoken, diplomatic fashion:
HELL HAS FROZEN OVER!! @ATT and @Verizonwireless are working together on something, but scared to mention us too? #comeonguys #letsdothis

— John Legere (@JohnLegere) November 3, 2014
We are sure Verizon and AT&T will soon be beating down Legere's door to make a deal. ®
Sponsored: Practical tips for Office 365 tenant-to-tenant migration