Would you recognise the Vans shoes logo? Neither would Euro trademark bods
Cobblers to beg for recognition of 'distinctive character'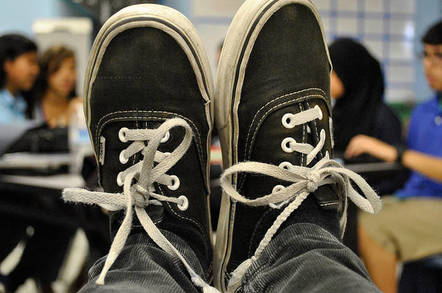 Next Thursday trendy trainer firm Vans will try to persuade the European Court of Justice that it absolutely is a distinctive brand.
Vans will ask the European Court of Justice to overturn the decision of the OHIM (Office for Harmonisation in the Internal Market) not to grant it a trademark for its squiggly line logo. The OHIM refused the trademark on the grounds that the symbol "was devoid of any distinctive character".
Vans claims its "symbol" is already in widespread use and recognised by consumers throughout the EU.
However the OHIM thinks differently, claiming most people would be incapable of associating the symbol with the company.
In the court documents, the "distinctive symbol" is described as a "figurative mark representing a line which slants and curves".
On 25 October 2012, the ECJ issued a preliminary ruling on the "genuine use" of a trademark. To prove genuine use, the ECJ confirmed that the trademark holder can rely on the use of a form of the trademark that differs slightly from the registered form.
The ECJ interprets EU law to make sure it is applied in the same way in all EU countries, and settles legal disputes between EU governments and EU institutions. ®