UK print peddler Annodata slips ring on Berkshire firm's finger
Stumbling services biz Keltec was once a Blighty bigshot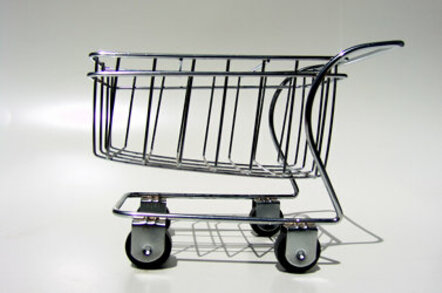 Hertsfordshire-based print services and comms house Annodata has wolfed down once-high-flying enterprise infrastructure supplier Keltec for an undisclosed sum.
The pair went public on the marriage today that will see a bunch of vendor accreditations including the HP Gold, VMware Enterprise Solution Provider and Veeam Gold Pro Partner badges transfer to the new parent.
"Today's acquisition is the first example of our new growth and in the UK," said Annodata MD Andrew Harman, in a statement sent to El Chan.
"Over the coming months we intend to integrate the company in full and Keltec's staff will play a pivotal in this process. Their skills and experience will be invaluable as we continue to grow the business."
The company is plotting a course to get to £100m in the next year, and over summer '13 appointed former Azzurri CEO Martin St Quinton as a director.
Creditors will no doubt be hoping Annodata stays on top of its debts rather more successfully than has been the case at Azzurri in recent years, following its extensive shopping trips.
Harman claimed the "mass adoption" of IT-as-a-service across all verticals is happening, and the deal with Keltec should allow it to "expand beyond our traditional boundaries".
Managed and support services account for the majority of Berkshire-based Keltec's gross margin, with infrastructure kit sales and progressional services the remainder.
But Keltec has struggled to regain the heady heights it enjoyed during the years of the dotcom boom and in the early noughties when customers were lapping up kit from former vendor partner Sun.
In the most recently filed numbers for calendar '13, Keltec reported sales of £13.95m versus £13.85m in the prior year. Gross profit margin was flat at 24 per cent. Profit after tax was £376k compared to £175k. It had 41 staff.
As for Annodata, sales in its fiscal to June '13 dived to £48m from £57m in the previous financial year. This was attributed to "difficult trading conditions".
But a tight control of costs led to a hardening of gross profit margins to 36 per cent from 30 per cent. Net profit crossed the lines at £394k, down from £460k. The company employed 289 workers.
Annodata claimed the acquisition takes the headcount to 380 and annual revenues to in excess of £78m. ®
Sponsored: Minds Mastering Machines - Call for papers now open