Microsoft jolts awake, remembers it still makes Office for Mac
It's only been four years since the last version, after all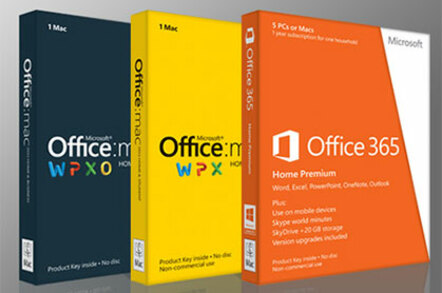 Microsoft has finally put a date on what will be its first new version of Office for OS X since 2010.
The software giant said that the second half of 2015 will bring the release of the first new version of Office for Mac in more than four years. That edition will bless Mac users with new versions of Word, Excel, PowerPoint and OneNote, as in the current version of the suite.
Before that release ships, however, justifiably impatient users will be able to try out a public beta version that's scheduled to arrive in the first half of the year, according to a road map Microsoft published on Friday.
A late 2015 release will put Microsoft in the area of somewhere around five years between updates for the OS X productivity suite.
Microsoft's Office 365 team said that the delay was due to Office for Mac being sidelined as of late while the company worked on the mobile versions of Office.
"Historically we have released a new version of Office for Mac approximately six to eight months after Office for Windows. However, following the release of Office 365 we made the conscious decision to prioritize mobile first and cloud first scenarios for an increasing number of people who are getting things done on-the-go more frequently," Microsoft said.
"This meant delivering and continuing to improve Office on a variety phones (iPhone, Windows Phone, and Android) and tablets (iPad and Windows) – brought together by the cloud (OneDrive) to help people stay better organized and get things done with greater efficiency at work, school, home and everywhere between."
In the meantime, Redmond has released a new version of Outlook for OS X users with Office 365 subscriptions. Microsoft said the new version of the email tool includes a new interface, Office 365 push email support, and faster email download times.
Subscribers to commercial versions of Office 365 can download the new Outlook version from their Office 365 Portal's software page, while consumer subscribers can download it from their My Account page. ®
Sponsored: Minds Mastering Machines - Call for papers now open