Me give you $14 squillion gadziddly-dillion
It's the Pathetic Shark Phishers
TRUSTING TO HEAR FROM YOU IMMEDIATELY
"Immediately" over-rules "promptly", you see.
How are youtoday I hope that everything is OK with you as it is my great pleasure to Contact you in having communication with you starting from today, I was just surfing Through the Internet search when i found your email address, I want to make a very new And special friend, so I decided to contact you to see how we can make it work if we can.
Whoa, slow down. How about dinner first?
Please I wish you will have the desire with me so that we can get to know each other better and see what happens in future.
I might have the desire with you or I might not. If you are a Soviet-era shot-putter, I might not be having the desire. Who-ing or what are-ing you?
My name is Tracy Williams, I am from the United States of America but presently I live And work in England.
Naturally, that will explain your impeccable application of English grammar, punctuation and spelling, "Tracy".
I will give you my pictures and details about me.
No thanks. I don't really want to look at pictures of small cannonballs and your gold medal from the 1960 Olympics. I am having the desire to do nothing of the sort. Thankfully, a message labelled "Legal Project Update" from the Far East has grabbed my attention.
Hi, I have a project we both can work out for benefit ?
Don't ask me, love. Surely you must know this kind of thing before emailing me in the first place. I could try to tell you so but I don't know whether to email you at yanclin@yahoo.com.tw or lin.lins@aim.com since your message claims to come from both. Next!
Salaam Allaikkum
Oh lordy.
My name is Ghazal from Syria, please i am sorry to write to you without you knowing me before now, i got your e-mail from bulk messages that was sent to me long time ago and i decided to picked you out in which i can't explain but i mean no harms in contacting you, please kindly respond to my message if you wish to give me a chance express myself and ideas with you if we can get to know each others and see what we can achieve. i will be waiting to hear from you and may Allah protect us till then insha Allah.
Well, let's see. How about... no? Next!
My name is Mr. Raphael Boma.
No it isn't.
I am the Regional Manager In a reputable BANK in ACCRA GHANA.
No you're not.
I came to know you in my Private Search for a reliable and reputable person to handle this confidential transaction.
Don't take the piss. Get on with it.
Mr. Chris Peppos made a fixed deposit of Six Million Eight Hundred and Fifty Thousand United State Dollars ($6,850,000.00) in my branch. Upon maturity, I sent a reminder.
Why did he have to wait for your balls to drop before you could remind him?
I finally discovered that Mr. Chris Peppos is dead. He died on a ghastly motor accident.
He was on an accident? Ghastly.
I want to emphasize here that this deal is free from any form of risk from both parties as great care has been exercised in perfecting it, and therefore, I enjoin you to approach it with an open mind and without any fear whatsoever.
Trust me, I am fearless... and yet you have scared me off with your threat to "enjoin" me. Mr Boma, I am not having the desire. What else have we got in that spam box?
Greetings my Naming are Francis Smith hopping your Are will.
Bye bye moron. Delete.
Im looking for a man.
I'm not. Delete.
urj st epvo ark nn ax gn bqyx zof zad
Don't be silly. Delete.
Attached are important accounting documents.
Thanks. Now fuck off.
Hi Dabbsy, it's Lewis. Your columns don't seem to have very much to do with real computing any more. They're turning into a shoddily researched and poorly written, not to mention tardily submitted, excuse to sting us with an invoice every week. Your ideas are old and your jokes are unfunny. Buck your ideas up, sunshine, or you're out.
Ha ha! Phishing attacks: you can spot them a mile away. ®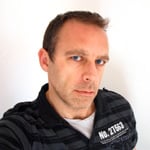 Alistair Dabbs is a freelance technology tart, juggling IT journalism, editorial training and digital publishing. He enjoys a nice plate of phish but his favourite remains Korean spam and wonders how he might go about persuading Korean spammers to put on an exhibition of their fluorescent non-creativity at The Tate, with tacky sunglasses included in the entry price.