Samsung launches 'perfect pair' of skinny mid-range phones
A3 and A5 to paper over cracks in finances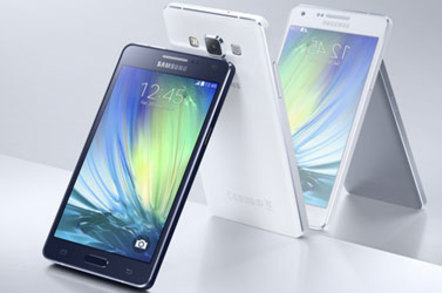 The world's biggest mobile phone manufacturer has unveiled two new Galaxy devices aimed at halting its falling market share and plummeting profits.
The Samsung Galaxy A3 is 130.1 x 65.5 x 6.9mm, and 110g with a 4.5-inch screen, while the A5 is 139.3 x 69.7 x 6.7mm and 123g with a 5-inch screen. For comparison, the flagship Samsung Alpha is 132.4 x 65.5 x 6.7mm and 115g and an iPhone 6 is 138.1 x 67 x 6.9mm and 129g with a 4.7-inch display.
With a metal case and high-end sizing, the mid-range price has been reached with lower specs. The screen resolutions are pretty decent: the A5 runs at 720 x 1280 pixels to give a 294 ppi pixel density and the A3 540 x 960 pixels, which equates to a 245 ppi pixel density.
The Alpha's 720 x 1280 pixels on a 4.7-inch screen gives it a 312 ppi pixel density, and the iPhone 6, with its Retina HD display, is way ahead with a screen of 750 x 1334 pixels to give a pixel density of 326 ppi.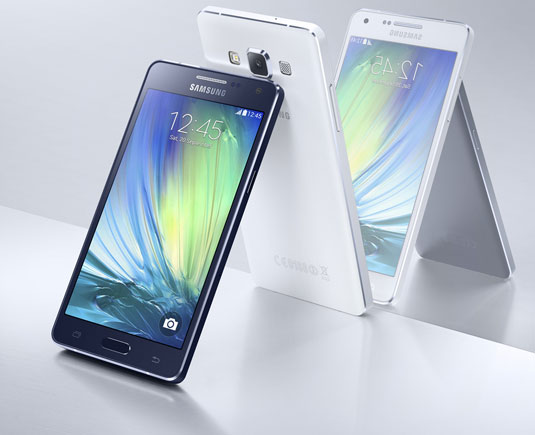 The Samsung A5 comes in "Pearl White", "Midnight Black", "Platinum Silver", "Soft Pink", "Light Blue" and "Champagne Gold".
Both phones are based on the Qualcomm Snapdragon 400, a 1.2GHz Quad-Core Processor, and support LTE CAT 4 (so won't work with EE's new CAT 6 service). The A5 has 13Mp rear and 5Mp front cameras, while the A3 has an 8Mp and 5Mp snappers. There is a big emphasis on using the new phones for social networking and the cameras have "Wide Selfie, Palm Selfie, Animated GIF, Beauty Face Features, and Rear-cam Selfie, which lets users capture the best selfies possible in high resolution by automatically detecting and focusing on a person's face".
Disappointingly, the phone runs Kit Kat rather than Lollipop. The new phones should last through a day: the batteries are 2300mAh in the A5 and 1900mAh in the A3.
Both devices will come in a variety of colours, including Pearl White, Midnight Black, Platinum Silver, Soft Pink, Light Blue and Champagne Gold. They are on sale now in China with no date yet for the Euro launch – though it can't be far off. ®
Sponsored: Becoming a Pragmatic Security Leader