Marc Benioff tethers Salesforce cloud to Blighty
First European data centre spotted off west London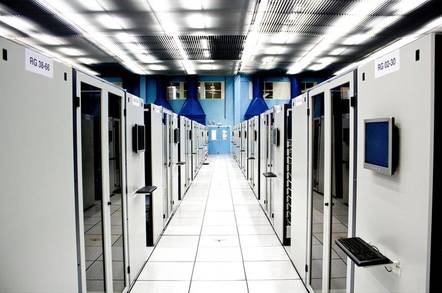 Salesforce has opened its first European data centre in the UK.
The CRM-as-a-service provider today announced the new facility in Slough, west of London, had gone live build by NTT. It's the first of three planned European facilities.
Marc Benioff's firm plans data centres in France and Germany next year, too.
The UK, along with France and Germany, will bring the number of Salesforce data centres to nine, with existing facilities in Chicago and northern Virginia, San Francisco, San Jose and Singapore, and Tokyo of more than 76,000 square feet.
Salesforce said it is opening the European centres to support a growing customer base in the region.
Senior vice president for the UK and Ireland, Andrew Lawson, said in a statement that Salesforce had experienced "unprecedented growth" in the Europe.
Salesforce's revenue is growing at about 30 per cent a quarter. The firm claims more than two million users and 100,000 customers. The company is sucking in ever-growing amounts of customers' data through its CRM software – all of which needs housing and crunching. It hopes to accumulate more through mobile and with the addition of analytics with Salesforce Analytics Cloud in October.
The centres, however, should also help Salesforce address lasting concerns among customers about using data centre hosts based in the US.
The problem for European customers is one of corporate and customer data leaving the relatively favourable regulation of the EU for the US.
Also, that US-based firms are under pressure from US authorities to give them access to data through legislation like the Patriot Act and through day-to-day NSA snooping.
Salesforce in October 2012 joined the UK government's G-Cloud programme, a catalogue of suppliers cleared to do business with Whitehall departments.
Salesforce is the latest US-based cloud and service host to have expanded its European presence.
Amazon last week announced the opening of a new, European region in Frankfurt, Germany, using different data centres.
Insulation from the US was one reason cited by the AWS host, saying customers could now architect clouds for back-up and redundancy while keeping their data in the US, as they can now make their clouds span the Frankfurt and existing Dublin regions. ®