Google's dot-com forget-me-not bomb: EU court still aiming at giant
'Right to be forgotten' only extends to EU borders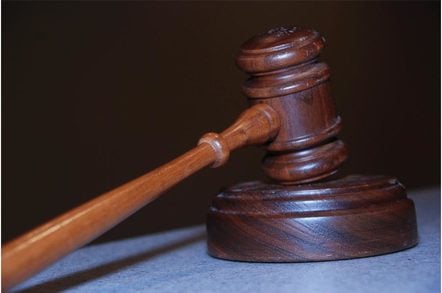 Google's argument that its .com domain is not relevant in so-called "right to be forgotten" requests in Europe will not stand up in court, according a senior legislator at the European Commission.
Speaking at the Academy of European Law's data protection event in Paris on Thursday, Paul Nemitz, the outspoken director of the European Commission's justice department, said he did not believe it was legally right for the search engine monster to exclude Google.com from its connection takedowns.
The discussion was not specifically on Google, explained Nemitz, but it was about the reform in general. "However, obviously the topic came up. If the .com domain is exempted then to a large extent the purpose of the judgement [by the European Court of Justice in May] will be undermined," he told El Reg.
"I think it's foreseeable that someone will bring a case before a national judge, who will rule or will ask the ECJ again. And I would be very surprised if the ECJ decided that the .com domain can be exempted, because of course you can see it in Europe," said Nemitz.
Google representatives at the event pointed out that this was problematic since the information is protected in the US under the First Amendment.
Currently the so-called right to be forgotten is not applied to the Google.com domain, nor for any other country-specific Google domains outside of Europe. This means that, in practice, query results the company stops showing on its European domains will still turn up on its other sites.
The right to be forgotten is, in fact, a right to be de-linked from search results and stems from an ECJ ruling in May. The ECJ was asked by Spanish courts to rule on a case involving Costeja González, a 58-year-old lawyer, who successfully argued that Google was directing people to outdated and irrelevant information about him, specifically a 10-year-old Spanish newspaper notice about a mortgage foreclosure against him.
The court decided that the search engine did constitute a data controller and ordered Google to remove the links.
Since then, Google has received more than 150,000 requests for links to more than half a million URLs be removed. To date, the company has taken down 171,183 links. Facebook remains the single URL from which most links have been removed — a total of 3,567.
But the figures vary from country to country. France has made the most requests, followed by Germany (31,521 and 27,015 respectively).
Total requests from the UK stood at 20,413 at last count, but only 35.8 per cent of those were complied with, compared with 52.9 per cent that were removed in Germany.
Google's Advisory Council will hold its final public consultation on the issue in Brussels next Tuesday, and Nemitz and our good selves will both be there. ®
Sponsored: Becoming a Pragmatic Security Leader