OFFICIAL: Fondling of Apple's slab declines – iPad sales DOWN in Q3
Pile 'em high, sell 'em cheap' vendors blamed for decline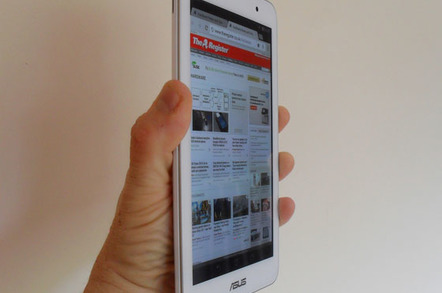 Global Q3 2014 iPad sales of have fallen by almost 13 per cent, year on year, against a backdrop of worldwide fondleslab growth, according to analyst figures released on Friday.
However, Apple still owns the lion's share of the market, with iPads comprising nearly one in three tablets sold, said IDC.
Shipments sank by 12.8 per cent to 12.3m in the third quarter of 2014, compared with the same period last year. Meanwhile, the global tablet market grew by 11.5 per cent to 53.8m.
Jitesh Ubrani, senior research analyst at IDC, blamed the fall in iPad sales on 'pile 'em high, sell 'em cheap' vendors moving into the space. "Although the low-cost vendors are moving a lot of volume, the top vendors, like Apple, continue to rake in the dollars," he said.
"A sub-$100 tablet simply isn't sustainable — Apple knows this — and it's likely the reason it isn't concerned with market share erosion," he added.
Although Apple recently expanded its iPad lineup to include the iPad Air 2, IDC said it expects iPhone sales to dominate in 2014.
According to the figures, Samsung is the second most popular fondleslab manufacturer, with sales up 5.6 per cent to 9.9m in the third quarter, comprising a 18.3 per cent market share.
Meanwhile, Asus leapfrogged Lenovo to the number three spot, shifting 3.5m and a market share of 6.5 per cent. Much of this gain was fuelled by Windows-based two-in-one devices, said IDC. ®
Sponsored: Becoming a Pragmatic Security Leader