Struggling tape bods Quantum a few quids in after good quarter
Firm is growing again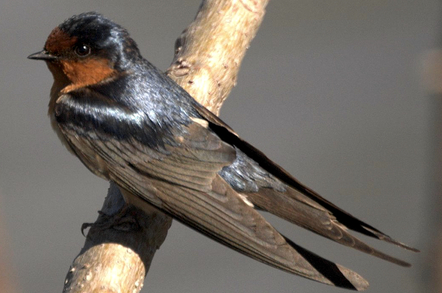 One swallow doesn't make a summer but two certainly does indicate warmer weather is on the way. So too for Quantum, which has just made a profit – the first one after four quarters of losses.
Quantum, that perennially struggling tape, disk and file management vendor, has just reported a positive second fiscal 2015 quarter ending 15 September. Revenues of $135.1m were three per cent higher than a year ago and six per cent up on the w 2015 quarter.
Profits – yes, there was a profit – were $1.2m, which compares most excellently to the year-ago $7.9m loss and the $4.3m lost in the first quarter. It edged into profit in the first quarter of fiscal 2014 only to slip back into loss the very next quarter.
Here are a couple of charts to show how the net income trend is changing: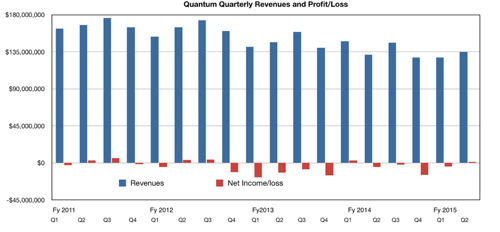 Quantum revenues and net income. Click to embiggen.
The latest quarter's profit is so tiny on this chart that we constructed a second one showing just the profit and loss amounts by quarter: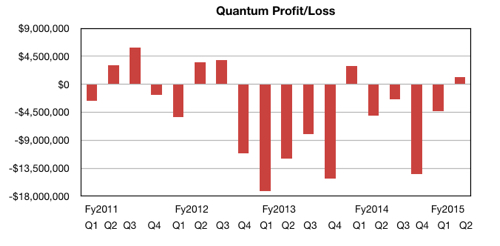 There are six profitable quarters here, overshadowed by 12 quarters of larger losses. Commenting on Quantum's first fiscal 2015 quarter we said: "Is the upturn visible? Not yet but it's close, oh so close. Cross your fingers, Quantum investors, and hope their tightly run ship does the business."
Now an uptick is here – but a small one, with the profit being just 0.9 per cent of revenues. The signs are good. Scale-out storage product revenues grew 41 per in the first quarter and accelerated to 58 per cent growth in this latest quarter. There was rising increasing demand for StorNext shared storage and Lattus extended online storage products. DXi deduplicating backup to disk appliance revenues grew 11 per cent year on year.
CEO Jon Gacek needs to make sure Quantum doesn't lose momentum in its third quarter and slip back into loss. He issued encouragement to investors and employees: "As we begin the second half of the fiscal year, we are well-positioned to build on this market momentum and the power of our scale-out storage and data protection portfolios to deliver greater growth, profit and shareholder value."
The revenue expected in the third quarter is $145m to $150m. At the mid-point, $147.5m, that represents one per cent growth year on year. If it's achieved then that's three swallows and we might be quietly even more hopeful of the reliable growth returning to Quantum.
What we are seeing here is that the declining tape revenues are now being compensated for by sales of disk-based product. This pattern should tip even more in the disk product's favour with deals like the one Quantum has just arrived with Avere and its FXT filer accelerator and cloud access system.
The joint system is an integrated networked attached storage (NAS) system with cloud storage – Avere Cloud NAS (FXT filer) combined with Lattus object storage. We're told: "Avere's FlashMove transparently moves live, online data to Lattus without disruption while FlashMirror replicates data to Lattus for disaster recovery."
Quantum and Avere say that they provide the high-performance access required for oil and gas exploration. Their bundled system is available now. Now, about that swallow ... ®
Sponsored: What next after Netezza?