Sales down at UK's oldest tech distie: Northamber losses widen in fiscal '14
But chairman Phillips is rosy about future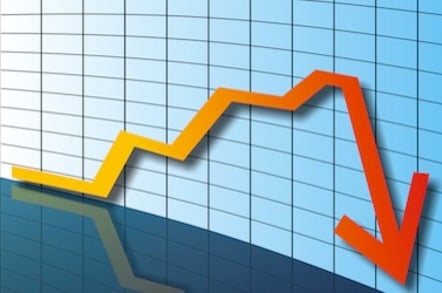 The prognosis for Northamber's future is brighter, according to its colourful chairman, despite widening losses and revenues remaining in free fall for fiscal '14 ended June.
The AIM-listed tech distie - the oldest in Blighty - reported prelim sales of £62.8m, down a whopping 19 per cent year-on-year, and a loss from operations of £1.225m, versus a loss of £1.15m.
The numbers were boosted by a steep reduction in operating costs, with distribution and admin expenses down 24 per cent and by a fifth respectively to £2.55m and £2.948m.
In spite of the top and bottom line slip, David Phillips, the colourful chairman at Surrey-based Northamber, who in the past voiced a lack of optimism for the industry and his firm's place in it (falling demand and eroding product margins), has softened his tone.
The man still thinks "our own sector has and is struggling with strong and increasingly dominant performance competition from more stable technologies and vendors".
But he claimed the direction of travel for the organisation improved significantly in the second half of the year, with an operating loss just shy of £500k, better than the loss of £730k in the first half.
"In the second half we achieved increases in both turnover and margins," he said, "costs were contained… even though we increased the quality and quantity of resources put into marketing, selling and liaison with suppliers."
One new face to show up in the year was Alex Phillips, son of David and heir to the Northamber empire (David Phillips has a majority stake in the business). He came on board as director of strategy.
Northamber has exited the PC market, sales of which it previously described as "empty revenue", and is trying to swell the portfolio with emerging technologies.
"We must continue to minimise as far as is avoidable, exposure to empty revenue," said Phillips.
Of course this shift takes time to translate to improved financial results, but the chairman said falling bad debts, the debt-free position and its "competent logistics, infrastructure and facilities" were positive signs.
The company made redundancies last year but said it is now recruiting "new, experienced and qualified staff to help deliver our change of focus and the drive forward".
Phillips said he is "always cautious when saying too much about the future" but said the improving economy and relative uptick in the second half of the year, were positives.
"On that basis I am more optimistic than I have been for some time on the future of the company. With the dedicated team we have and the underlying strength of the company in not only its trading history and connections as well with the capital resources, I hope to be able to report more progress in the coming years."
One thing is certain: Northamber is light years away from the heady days of the early 2000s when turnover almost reached the £300m milestone. ®