NATO declares WAR on Google Glass, mounts attack alongside MPAA
Yes, the National Association of Theater Owners is quite upset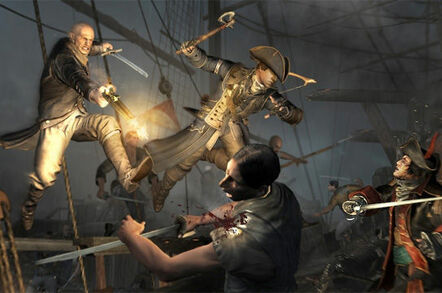 Moviegoers will soon be asked to stash their Google Glass before taking in a flick, much like they're asked to pocket their mobile phones today.
The National Association of Theater Owners (NATO... no, really!) and the Motion Picture Association of America (MPAA) said in a joint statement that NATO's member theaters would classify wearable technology as recording devices, making users who wear the camera-equipped specs subject to ejection if the offending eyewear is not stowed.
The declaration was added to the groups' joint anti-piracy policy, which the organizations hope will allow member theaters to better decide how to handle customers who wear Glass to the movies.
Studios fear that Glass wearers will take advantage of their headsets' recording capabilities to capture and make copies of the movies they attend, and they'd like to see theater owners take a more proactive role in preventing that.
NATO says that its members include chains and independent movie houses that operate an estimated 32,000 screens in the US alone. The group also has operations in Europe, Asia, and Australia.
"As has been our long-standing policy, all phones must be silenced and other recording devices, including wearable devices, must be turned off and put away at show time," the policy reads. "Individuals who fail or refuse to put the recording devices away may be asked to leave."
For most Glass wearers, the rule won't mean much more than just taking off and stowing your headputers before heading into the theater. For those who wear prescription lenses in their Google specs, however, it could be a bother unless they pack a spare set of last-century eyeglasses.
This isn't the first time the movie industry has been forced to confront the menace of Google Glass. Earlier this year, a man in Ohio was taken into custody by Homeland Security after he wore the tech into a movie screening. Many theaters in the US and UK have already issued their own bans on the Google headsets as well, citing piracy concerns. ®
Sponsored: Detecting cyber attacks as a small to medium business