Facebook OCP crowd to ogle MICROSOFT'S server-room SECRETS
Open Compute Project claps eyes on Redmond blueprints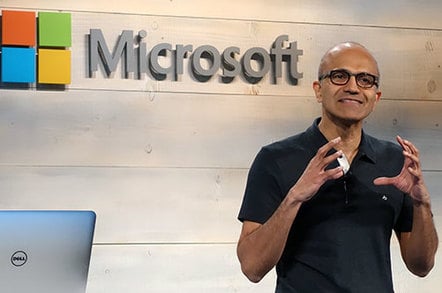 Microsoft has released a second clutch of secret blueprints from its server bunkers to Facebook's Open Compute Project.
The giant on Thursday published specs for servers and open-sourced code for the in-house tools its techies use to set up and run Azure, Office 365, Bing and Xbox Live.
The idea is for anyone to take Microsoft's hardware designs to a custom manufacturer and have them build the exact same system - down to the screws. You can then use Microsoft's battle-hardened admin tools to run things.
Microsoft said the designs, called Open Cloud Server specification version 2 (OCS v2) will help users cut down on costs and will mean greater power efficiency and improved up time.
OCS v2 employs greater use of standardised components and interfaces – the marching song of the OCP begun by Facebook in 2011.
Microsoft believes convergence on a unified design will mean greater economics of scale in its own supply chain and provide the ability to deliver a greater array of cloud services from the same, single underlying platform.
"Microsoft has committed to advancing the OCP agenda by bringing the learnings from our own experience and incorporating that into our own hardware design and bringing that to the industry," the general manager for server engineering in Microsoft's cloud and enterprise division, Kushagra Vaid, said at the Open Compute Project's European Summit in Paris on Thursday morning.
"This helps drive down the problem of how do we bring cloud-scale computing to the masses."
OCS v2 is Microsoft's second donation to OCP since joining in January and features a number of improvements that mean greater performance and flexibility, Vaid said.
Microsoft has been testing OCS v2 for six months to run IaaS and PaaS in Windows Azure, host email and collaboration on Office 365 and gaming services on Xbox Live.
OCS v2 has a dual-processor design based on Intel Haswell CPUs with up to 28 cores per blade; 40 gigabit Ethernet networking – with support for routable RDMA over Converged Ethernet for fast throughput; use of m.2 Flash-based memory for density of design and rapid retrieval of data; support for memory capacity of increments of 128, 192 and 256GB; use of FPGA accelerators for servers to be tuned to unique workloads; and a compact 1600 watt power supply that is capable of a hold-up time of 20 milliseconds to cover switch over between utility and generator to avoid service interruptions.
The hardware specs will be released in a 350-page document on the OCP's website, complete with files for the chassis and mechanical CAD modules.
"You have the design collateral so you can take the design package, go to a contract manufacturer and say: 'Build me this thing'," Vaid said.
Microsoft has also open-sourced the code for its operations tool kit, a PowerShell environment it built and used internally to manage and run servers, and an interoperability and compliance toolkit that ensures all the parts in a rack work together.
The toolkit has diagnostics to identify failures, stress-test tools and an automated upgrade tool designed to take care of rollouts of things like software and BIOS upgrades. ®