Return of the disk drive bigness? Not for poor old, busted WD
Modest rev rise as profits fall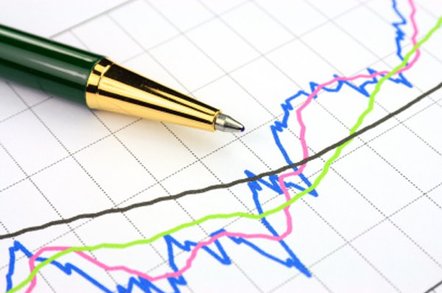 Western Digital has reported mixed numbers for its latest quarter, with a small revenue rise and a larger profits drop compared with the numbers it reported a year ago.
Seagate reported sparkling numbers yesterday in comparison.
For its first fiscal 2015 quarter, ended 3 October, revenues of $3.9bn were up modestly year-on-year, a three per cent rise, but five per cent higher than the previous quarter
The $423m profit was 15 per cent less than the $495m recorded a year ago but comfortably higher than the previous quarter's $317m.
The chart shows the changes this quarter: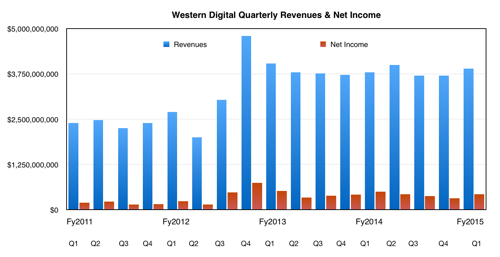 Western Digital produced 64.7 million disk drives, compared with 62.6 million a year ago and 63.1 million in the prior quarter. This wasn't enough, as a chart it supplied showed its share of the market going down: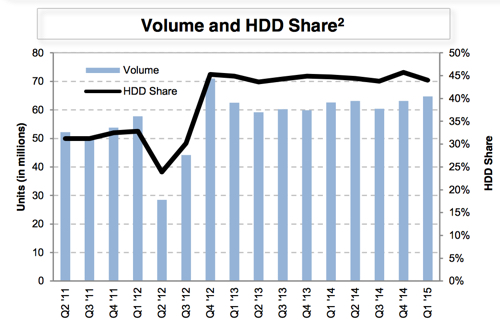 Western Digital disk drive market share by quarter
It was more than Seagate's 59.5 million though.
Another quarter with revenue trends like this and Seagate will overtake Western Digital: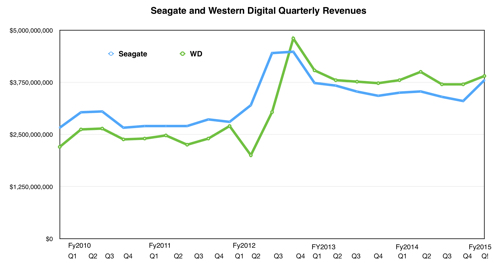 Stifel Nicolaus MD Aaron Rakers thinks it's a positive quarter for Western Digital and highlights "the strong increase in average capacity per drive; 1,002GB vs. 875GB in prior quarter (Seagate at 1,007GB). ... The company also reported strong Enterprise SSD revenue at $156m vs $113m and $106m in the prior and year ago quarters."
We charted Western Digital's quarterly enterprise SSD revenues to show the trend: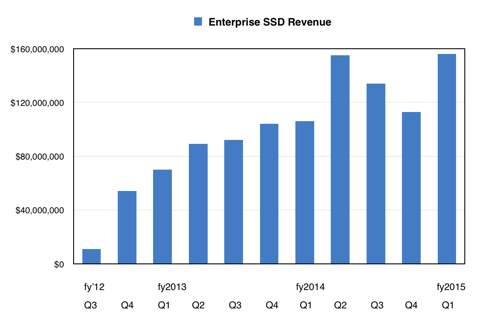 Clearly growth has resumed, thankfully. Small potatoes though, very, compared to disk revenues. ®
Sponsored: Minds Mastering Machines - Call for papers now open