Dragon's Outsourcery flaunts UK.gov cloud bazaar credentials
'Still a lot of distrust for cloudening among these gov primitives', admit biz chiefs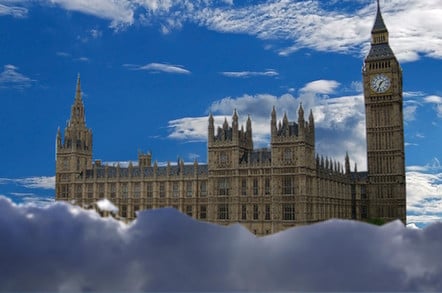 Outsourcery is crowing about the O-Cloud platform receiving pan government accreditation - IL2 in old money - that will allow it to unleash IaaS and hosted Microsoft apps on tech buyers in the Digital Marketplace.
This does not give the loss-making purveyor of cloudy stuff the keys to a particularly exclusive club; 17 other incumbent suppliers are PGA certified to sell tech services via the web shop, formerly branded the Cloud Store.
The newly certified O-Cloud goes on sale at the end of this week, Outsourcery's marketing people tell us, with Simone Hume, head of public sector at the firm describing it as a "milestone".
The biggest opportunity for Outsourcery is to promote Microsoft SaaS including Lync, Exchange and Dynamics CRM, because it does not have the scale to offer VMs or storage at a price point buyers demand, say sources.
It will likely be some months before the Manchester-based biz, co-founded by Dragon's Den's Piers Linney, actually bags PGA, formerly known as IL3. Five suppliers including SCC, Skyscape, Memset, Atos and Alliantist are certified to run that level of government classified information over the web.
"We are currently in the final stages of implementing our Secure O-Cloud platform, a secure cloud platform that will have accreditation by PGA, enabling OFFICIAL and OFFICIAL-SENSITIVE information to run over the government's PSN network at Protect and Assured Levels," added Hume.
A PR hand was unable to give us a concrete date when Outsourcery will be allowed to wear the IL3 badge of honour.
As we've pointed out on multiple occasions, the glacial paced adoption of cloudy services via the Digital Marketplace has led to criticism of the government's cloud strategy.
Cabinet Office officials were even forced to step in to mandate public sector buyers to go cloud first before refreshing technology the way they always have.
According to Cabinet Office stats, some £314m of business has been transacted via the online store since it was launched in spring 2012. Some 53 per set sales by value and 61 per cent by volume were handed to SMEs.
But some 80 per cent of the deals by value were through Central Government with the wider public sector making up the rest.
Simon Hansford, CTO at Skyscape, said the level of trade is clearly ramping but conceded the government needs to continue spreading the word about the Digital Marketplace.
"There is a problem of education, it still exists," he told us, "so many people don't get cloud, they think it is disruptive, insecure and that outsourcing to the large traditional IT players is less risky".
"The message from central government has yet to arrive in a lot of departments". ®
Sponsored: Minds Mastering Machines - Call for papers now open