NetApp offers ONTAP as a cloud for all seasons
Updates to hybrid ONTAP?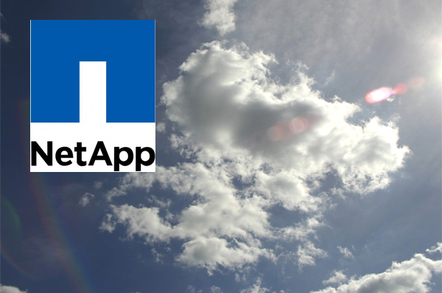 NetApp has updated its ONTAP operating system release into what it calls a data fabric spanning private, hybrid, and public clouds, and includes a SW-only Cloud ONTAP edition running in public clouds.
NetApp is also offering new services for hybrid clouds. There's an Enterprise Transformation Workshop for Cloud, an Efficiency and Optimisation Service, clustered Data ONTAP Migration Service, RapidData Migration QuickStart Service, and self-help migration tools.
Data ONTAP is the FAS array operating system software providing unified file and block storage access. Clustered Data ONTAP (CDOT) is the clustered version of that and runs Storage Virtual Machines (SVMs); abstractions of the array with individual storage policies for use by applications. CDOT v8.3 is the latest release and supports sync replicating MetroCluster. It synchronises data between ONTAP clusters in separate data centres up to 200km apart.
This disaster recovery (DR) software offers zero data loss with automatic site-level failover for component level failures. NetApp says it has seamless integration with storage efficiency, backup, disaster recovery, non-disruptive operations, and third-party storage.
CDOT 8.3 also has;
performance optimisations for all-flash nodes so that customers can maximise performance without sacrificing rich data management, protection, or flexible data movement.
efficiency improvements to improve $/GB and $/IOPS "significantly."
The efficiency and performance improvements are significant and many are the result of work in FlashRay's Mars OS which has transferred over to ONTAP. We're told that all-flash FAS 8000s, with their increased CPU and RAM resources, will fly.
All-flash FAS will offer 350,000 IOPS at less than 1.3msecs latency, which is a 70 per cent improvement over cDOT 8.2 at that latency.
The new OS version will also scale past 100PB of data in a cluster, including 1.7PB of flash storage.
It will provide a general 30 per cent improvement in $/GB for disk and hybrid FAS arrays, with an up to 17 per cent $/GB improvement for all-flash FAS arrays.
Cloud ONTAP
Cloud ONTAP is a software-only version of ONTAP running in public clouds. The first public hints about Cloud ONTAP came in June.
With this software a NetApp slide deck says customers can "explore and test the full power of cDOT in the cloud with very little risk." Two management products, OnCommand Cloud Manager and OnCommand Insight, "simplify monitoring, provisioning, and data movement of all cDOT instances across clouds."

Cloud ONTAP and SnapMirror
Cloud ONTAP has a 6-month license option geared for test and dev type projects or for investigatory work on the Cloud ONTAP idea.
Private Storage for the Cloud
NetApp Private Storage (NPS) for the cloud enables customers to use multiple clouds and maintain control of their data on a single NetApp data storage device strategically placed in select colocation facilities. It has tested cloud connectivity with many Equinix locations and with select alternate co-location facilities worldwide.
The latest supported cloud here is SoftLayer, joining Amazon Web Services and Azure.
Data fabrics
NetApp says it's putting in place a so-called data fabric to provide access across all these different environments.
"This data fabric enables data to be consistently managed and transported seamlessly from one part of the cloud to another," the firm said.
"It also enables enterprises to apply consistent policies and services to the data in the hybrid cloud regardless of the application, technology or cloud infrastructure provider."
NetApp reckons it's focusing on the key thing its enterprise customers and potential customers need; data management in the hybrid cloud with as near seamless as possible private on-premises, public cloud, and hybrid. Without hybrid there is every chance customers will slowly move en masse to the public cloud and that cannot be encouraged.
But nor can NetApp or anyone else stand in the way of public cloud use. It has to go with the flow and NetApp thinks it can best do that by providing an all-covering ONTAP magic carpet across private and the main public cloud environments. ONTAP's mainstream future is a hybrid cloud future and what we have here is, in effect, Hybrid ONTAP. ®
Sponsored: Becoming a Pragmatic Security Leader