Fanboi-and-fanfare-free fondleslabs fail to fire imagination
The iPad Air 2 and Mini 3 are slightly better iPads, nothing more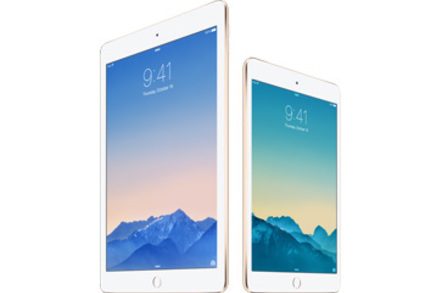 First Fondle Here's something new from Apple: a product launch without a queue, excited fanbois or, indeed, much enthusiasm at all.
The launch is question was that of the iPad Air 2 iPad Mini 3, both of which quietly slipped into Apple stores late last week. As is Vulture South's custom, we dropped into our friendly neighbourhood Apple store to check out the products before Apple Stores in the rest of the world open their doors.
We didn't go in for the opening: Apple hadn't told the world when the new products would land in-store so we didn't know when to show up. Instead we drifted in a convenient time in the afternoon and found an Apple Store buzzing as usual, but no particular ardour for – or fuss over – the new iPads.
It's not hard to see why. While both of the new models have new styling, neither immediately catches the eye as new or remarkable. In your correspondent's opinion recent iPads have been rather lovelier to behold than the iPhones 4 and 5, so the slight change doesn't stand out.
Both new models are lighter than their predecessors, but not so light that the experience of hefting an iPad changes. For example: the WiFi-only original iPad Air weighed in at 469 grams. Apple says the new model comes in at 437g, an essentially imperceptible change. The reduction in depth from 7.5mm to 6.1mm is a bigger change, but doesn't change the experience of using the Air. The reduced weight doesn't make it easier to hold in one hand because the 9.7-inch screen still demands a two-fisted embrace.
The Mini's weight and dimensions are unchanged and while it's still possible to grasp it in one meaty paw, the iPhone 6 Plus offers a far more comfortable one-handed experience.
Both the iPad Air to and Mini 3 we used lagged when rotated – getting from landscape to portrait mode and back again was not swift or simple. Which made us wonder just what the new M8 processor in the iPad Air 2 was up to. Sound was decent, but not stellar. Screen resolution is unchanged, so nothing to report there. The addition of antireflective coating on the iPad Air 2 doesn't immediately appear to be a significant enhancement.
The new Apple product that did stand out was the 5K iMac. The screen is magnificently bright and clear and renders images with impressive levels of detail. Other than that, it's still just an iMac.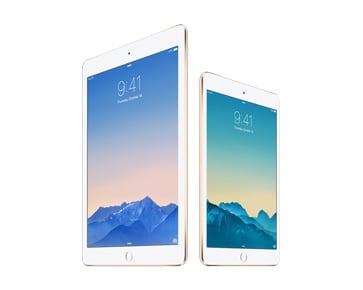 The iPad Air 2 (l) and iPad Mini 3 (r)
After hefting the new iPads, it's not hard to see why sales of the devices are slowing because the experience of using an iPad Air 2 is only a little better than that on offer with an iPad 2, never mind the iPad Air's first incarnation.
Readers sometimes complain such a conclusion is curmudgeonly and ask why we can't be a little kinder to new iterations of product. That the new iPads appeared on the same day Microsoft revealed that the Surface has turned into a $908m-a-quarter-business might give those backing such arguments pause for thought. The iPad's clearly falling out of favour and typoslabs like the Surface look to have plenty of momentum.
Your move, Mr Cook. ®
Sponsored: Becoming a Pragmatic Security Leader