Weekend reads: Russell Brand's Revolution and Joy Division's Ian Curtis gets lyrical
And Lemony Snicket's author goes piratical
We Are Pirates
Daniel Handler is a writer and musician who is the author of many novels under his own name and also the nom de plume Lemony Snicket.
We Are Pirates is the story of Gwen Needle, a disaffected teenage girl who gets caught shoplifting and is sent by her parents to work in an old people's home where she meets Errol, an ex-sailor whom she befriends.
Gwen is captivated by Errol's nautical tales and dreams of derring-do on the high seas with her new friend Amber, possibly the only teen more disaffected than herself. They recruit Manny, a Haitian care assistant from the old folk's home and hijack a showboat.
An improbable series of adventures ensue: mutiny; betrayal; being washed up ashore – all the usual ingredients of a nautical tale – as a mysterious reign of terror ensues in San Francisco Bay.
Daniel Handler has crafted a strange story indeed and his teenage heroines are a hoot. How's this for teengirl sulk: "But Naomi even wore sunglasses at her. Every hallway was miles long until school stopped ..."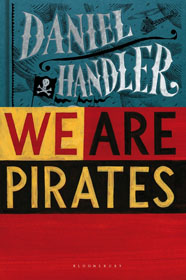 But there is also the parallel story of Gwen's dad: Phil Needle, middle-aged, balding, with a druggy past – dreaming about it and not getting it, trapped in a loveless marriage with the neurotic Marina.
The pirate crew are a disparate shower, but there are some finely stirring libertarian lines sampled from pirate epics such as Rafael Sabatini's Captain Blood and Richard Hughes' A High Wind Of Jamaica:
"We are pirates! he crowed. "We are men and women without a country. We are outlaws in our lives and outcasts in our families. We are desperate, and so we seek a desperate fortune. We band ourselves together now to practice the trade of piracy on the high seas"
There are some equally inspiring, more up to date exhortations: "There is no dress code, but there are restrictions on language. You may say God. You may say Christ. You may say Goddamn or Christ on a stick. Shit, fuck, bullshit, motherfucking c**t, asshole. But you may not take to task a member of anyone's family, as we are all family now, and the people who raised us are left on land to rot away."
Needless to say such noble sentiments rapidly descend into farce.
Daniel Handler is light reading but has more class than most of the literature I have read this year. His characters are twisted, flawed and delightfully human, his story far-fetched enough to captivate and his observations of people's interior workings insightful. Here is Phil Needle looking back on his dodgy outsider past:
"There was a look white people shared on the subway when other people were misbehaving and the more drugs he took the less often they shared it with him ..."
We Are Pirates is a curious tale, curiously told. It refuses to be either highbrow literature, genre fiction, teen fiction or adult fiction. It just goes its own sweet way and that is a fine thing. ®

Author
Daniel Handler
Title
We Are Pirates
Publisher
Bloomsbury Circus
Price
£12.99 (Hardback), £10.99 (eBook)
More info
Publication web site