Weekend reads: Russell Brand's Revolution and Joy Division's Ian Curtis gets lyrical
And Lemony Snicket's author goes piratical
So This Is Permanence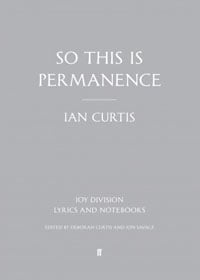 Ian Curtis is the legendary frontman of the shortlived, brilliant and very influential Joy Division. A selection of Ian's lyrics has appeared as an appendix to Deborah Curtis's Touching From a Distance and also in the Heart and Soul Joy Division boxset. So This Is Permanence gives Ian's work the full Factory treatment, reproducing his handwritten lyrics, notebooks and more.
The cover is faux Peter Saville and resembles Joy Division's live album Still. Curtis is one of the few modern lyricists who translates well from song to the page. He is the master of opening lines, take the book's title for instance from 24 Hours:
So this is permanence, love's shattered pride.
What once was innocence, turned on its side.
A cloud hangs over me, marks every move,
Deep in the memory, of what once was love.
There are a generation of misty-eyed old gits, myself included, who think contemporary poetry hit its peak in Manchester some time around 1980: to whom the likes of Ian Curtis, Mark E. Smith, Howard Devoto and John Cooper Clarke are the business, and successive generations of misty-eyed young gits keep picking up on the message.
Video of 24 Hours by Joy Division
The singer's widow, Deborah Curtis, together with author Jon Savage has done a sterling job in piecing together this deluxe edition. Deborah's foreword gives insight into the working process of Ian Curtis and John Savage puts his work into perspective.
However, there are glaring omissions in this book as handwritten version of seven songs are missing and have therefore been omitted. These are not only early Warsaw tracks like The Drawback, but include the landmark Digital, a couple of tracks from Unknown Pleasures and some of his greatest later works, including the last track from Closer: Decades and both sides of the Ceremony single.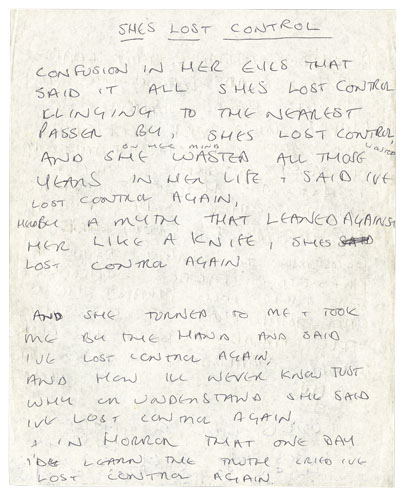 She's Lost Control from Unknown Pleasures (1979) was also covered by Grace Jones as the B-Side to Private Life (1980) with Sly Dunbar and Robbie Shakespeare giving it a very different feel
Deborah Curtis called Closer Ian's valediction and to see it reproduced without its finale will irk many of the JD faithful. While typed versions of these songs would arguably change the mood of So This Is Permanence, it is still a hard decision to justify considering the book's premium price and the fact that Ian Curtis's complete works amount to only 45 songs.
That aside, there remain many interesting alternative versions and fragments in the appendices, with fan letters, fanzine interviews and some reproductions of the covers of Ian Curtis's paperback collection.
There is always a landscape and an enigma with Ian Curtis and that will always be the case, as he is no longer around to explain his words and few paid such great attention to them until after his suicide in May 1980. Shortly after, I remember buying and playing Love Will Tear Us Apart about 30 times on repeat and I've never done that with any other track.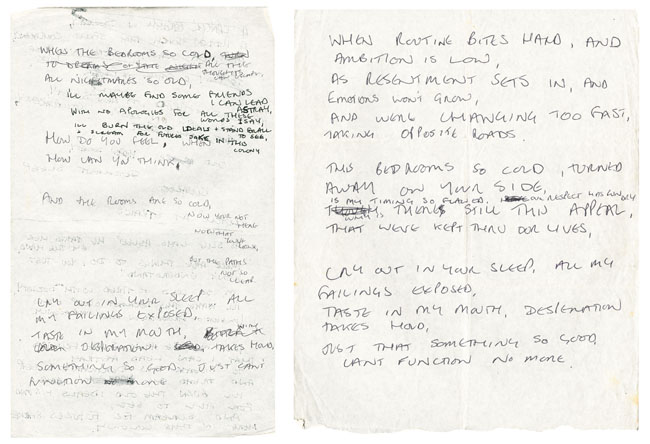 In his own write: early notes (left) and later lyrics (right) Love Will Tear Us Apart
Click for a larger image
It is great that the literary work of Ian Curtis has finally made it into print with the UK's premier publisher of poetry. So This Is Permanence is a fascinating and enlightening book for anyone interested in Joy Division, though it is a grave pity that it does not include all Ian's songs and I hope this will be remedied in future editions.
I also look forward to the appearance of the complete lyrics in a cheap paperback edition as Ian Curtis is not only a music legend, he is also a major 20th century poet.

Author
Ian Curtis
Editors
Deborah Curtis and Jon Savage
Title
So This Is Permanence
Publisher
Faber and Faber
Price
£27 (Hardback)
More info
Publication web site