Jeff Bezos rolls up another $437m, lights Amazon's cigar with it
Another lossmaking quarter despite sales of over $20bn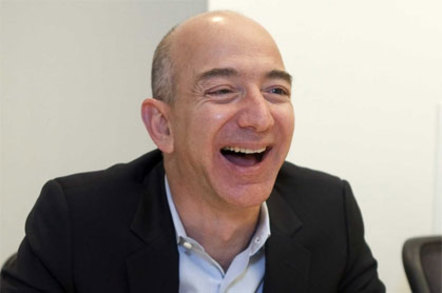 It's not black magic that Amazon works on its financial results each quarter but red magic – because however massive a haul of cash the company pulls in, it just can't seem to turn a profit. Odd, that.
The e-tailer's net sales were up 20 per cent for the third quarter of its fiscal 2014, year-over-year, bringing in a whopping $20.58bn. That was 6 per cent more than the previous sequential quarter, and we haven't even hit the holiday shopping season yet.
Sales of electronics and other "general merchandise" made up the lion's share of that, at $13.95bn or 68 per cent of the total. Another $5.24bn or 25 per cent came from sales of digital media. The rest was chalked up to the "other" category, which we'll get to shortly.
But although with any other company a 20 per cent revenue hike would be considered good news, perennially lossmaking Amazon managed to snatch defeat from the jaws of even that victory – and how.
Jeff Bezos & Co posted a net loss of $437m for the three months ending on September 30, which was a 966 per cent bigger bath than it took during the same period a year ago and was equivalent to a loss of 95 cents per diluted share.
Never mind what wonders Amazon's accountants worked to make that happen. The company even warned investors that its losses would be steep this quarter, though the analysts didn't realize quite how steep.
But the ins and outs of selling tat online aren't nearly as interesting to Reg readers as the company's Amazon Web Services (AWS) cloud computing business, which continues to show double-digit growth despite aggressive price competition with the likes of Google and Microsoft.
Amazon doesn't disclose the finances of its AWS division in any detail, preferring to squirrel it away under the "Other" line item of its quarterly reports. But the numbers there looked good yet again in Q3, with sales up 37 per cent, year-over-year, to $1.34bn.
And yet, in past quarters AWS's growth was accelerating. This time, the Other category's revenues didn't grow any more than they did in the previous sequential quarter, seemingly confirming some investors' fears that the Amazon cloud's momentum has plateaued.
Amazon keeps spending more and more money to expand its infrastructure, too. It's hard to say just how much of its "purchases of property and equipment" line-item goes to building data centers and buying servers, but in the third quarter it spent $1.38bn on capital expenditures, which was 33 per cent more than in the year-ago quarter and a 7 per cent rise sequentially.
Still, AWS's low prices mean it keeps attracting customers, which Amazon interprets as success.
"With over 350 significant service and feature releases year-to-date, and substantial price reductions (28 per cent to 51 per cent depending on the service) for customers starting in April 2014, AWS continues to grow strongly, with usage growth close to 90 per cent year-over-year for the third quarter," the e-tailer said in a canned statement.
Investors are growing tired of hearing reports of quarter after lossmaking quarter from Amazon, however, and they let the company know it following Thursday's closing bell, sending Amazon shares plummeting 11 per cent in after-hours trading. ®
Sponsored: Detecting cyber attacks as a small to medium business