VMware's new enemy no. 1 isn't Hyper-V, it's Vladimir Putin
Healthy quarter marred by plunge in Russian sales and missed US federal deal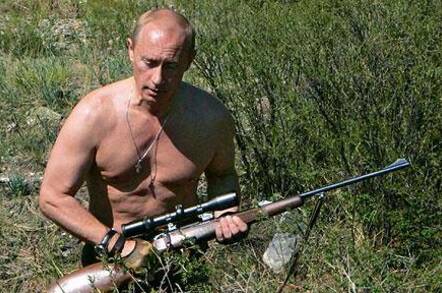 You can tell a lot about how a company is going by listening to financial analysts' questions at the end of an earnings conference call. When things are good – as they were in VMware's Q1 earnings call – analysts can almost gush. If there's a hint of weakness or illogic, analysts can find all sorts of things about which to ask picky questions.
That's what happened on VMware's Q3 conference call today. Virtzilla posted more-than-decent numbers: year-over-year revenue growth was 18 percent, meaning US$1.52 Billion came through the door. The NSX network virtualisation product gained another 100 customers, management declared they "couldn't be happier" with the performance of VSAN and the attach rate for products other than vSphere is on the rise as a "no naked vSphere" program starts to bite. The company landed its biggest ever single licensing deal and said it scored three US$10m-plus gigs in the quarter. Sales of enterprise licensing agreements were up and average support contract length is now a healthy 24 months.
VMware also put a number on its hybrid cloud business, saying it accounts for five per cent of revenue, and says other strategic bets such as end-user computing – sales of which are up 60 per cent are paying off.
Services revenue is up and the practice is kicking goals: the company recently scored consulting gigs at a pair of Fortune 50 concerns keen to get into the software-defined data centre caper by going all-in with VMware on greenfield bit barns.
On the downside, the company missed a colossal opportunity with the US federal government. While that deal remains alive, VMware had hoped to book the revenue in its third quarter.
Another government giving VMware trouble is Russia, where "geopolitical tension meant a 50% decline year over year". If VMware's woes are shared by other enterprise software vendors, Russia's recent military adventures will also go some way towards the nation's goal of reducing the influence of foreign technology suppliers.
Germany is another trouble spot for VMware, as a major refresh of the local sales team has apparently been necessary. Japan's stagnant economy isn't helping matters either.
The company nonetheless posted non-GAAP operating income of $460 million, up 5 per cent from the same quarter in 2013. Thanks to the acquisition of AirWatch, operating income for the quarter was down 16 per cent to $242 million. Profit was 87 cents a share, a little over estimates. And VMware's execs explained that the company's third quarter is seasonally soft, but that Q4 is usually better for business.
Those matters worried the financial analyst a little, but they were also concerned that VMware's pride in deeper customer engagements could also mean longer sales cycles and in turn slower growth. That big markets like Germany and Russia aren't doing well was also noted with furrowed brows, as was the missed US government deal.
VMware's guidance for next quarter suggests it will bring in between $1.67bn and $1.71bn, with the latter number one that analysts had forecast.
Shares in the company have dipped since the quarterly announcement. Investors will be looking forward to another announcement today – that of EMC's 'New business development' - to see if it also has implications for VMware's future. ®
Sponsored: Minds Mastering Machines - Call for papers now open