EMC profits flatline as VCE joins the storage-tastic federation
Just gotta hope the Fed holds out against activist investors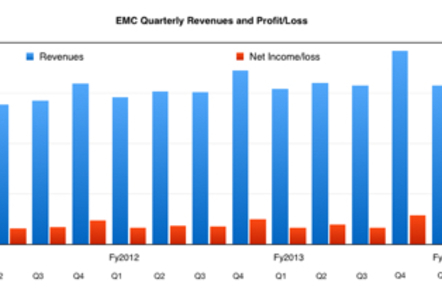 For its third quarter EMC reported good numbers but the news is overshadowed by the expected VCE announcement and the activist investor pressure on the Hopkinton firm.
EMC recorded a satisfyingly chunky nine per cent uptick in consolidated quarterly revenues for its third 2014 quarter – a round $6bn compared to $5.5bn a year ago. Profits were up by a minuscule amount, coming in at $587m this quarter versus $586m a year ago – essentially flat.
We'll have to wait for the earnings call to get an insight into why.
The company is a cash-generating machine; it generated $1.7bn in operating cash flow and $1.3bn in free cash flow (a non-GAAP financial measure of net cashflow less property, plant, equipment and capitalised software development costs) in the third quarter, and finished the quarter with $15.4bn in cash and investments.
It repurchased approximately $375m worth of its common stock and returned some $240m to shareholders via a quarterly dividend.
Overall EMC is made up of EMC Information Infrastructure (II), Pivotal, VMware and RSA. How did the various bits do?
VMware exhibited 17 per cent year-on-year quarterly revenue growth (within EMC) to $1.51bn, with net income of $363m.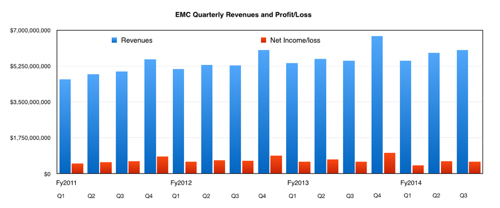 Pivotal revenues rose 24 per cent year-on-year.
EMC II reported six per cent year-on-year growth with:
Information Storage up six per cent with VMAX generally available.
Unified and Backup and Recovery was up six per cent.
Emerging Storage revenues grew 47 per cent with with strong growth for XtremIO, ViPR and ScaleIO. Isilon growth accelerated as Hadoop popularity boosted sales.
RSA security stuff at $261m was up a respectable four per cent.
The poor relation, EMC II's Information Intelligence Group, saw revenues of $154m; up three per cent. VCE revenues were not singled out, considering its absorption into EMC II.
. The financial info showed joint venture funding of $163 million, down from $268 million a year ago and, we understand, this is VCE funding.
Geographically, growth-wise, EMEA led the way with 15 per cent year-on-year growth, followed by North America at eight per cent (55 per cent of EMC consolidated revenues), APAC grew four per cent and Latin America one per cent.
Total 2014 revenues are no expected to be $24.5bn, slightly down from the $24.6bn expected at the end of the second quarter.
All-in-all these are good numbers but the world, investors, analysts and watchers all, are still waiting for strategic announcements about the Elliott Management-desired Federation break up.
One more quarter to go and then CEO Joe Tucci can kiss it all goodbye, so long as his retirement schedule remains unaltered. ®
Sponsored: Minds Mastering Machines - Call for papers now open