VMware gives up on dual-persona smartphone concept
AirWatch has other ideas about the best way to deliver apps to your pocket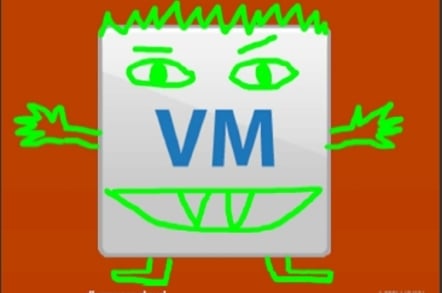 VMware has walked away from the idea of dual-persona smartphones, according to John Marshall, senior veep and general manager of the company's Airwatch division.
Virtzilla had the idea of dual-persona phones back in about 2011, when it floated the notion of a Mobile Virtual Platform (MVP) hypervisor. The plan was for handset-makers to install the hypervisor and for carriers to use VMware's back-endery to allow BYOPD phones to have a conventional Android environment for all but mission-critical tasks that required more security. When workers flicked the switch into the second, buttoned-down, persona, they'd be allowed through the firewall and offered access to a range of apps provisioned by IT.
VMware had a couple of wins with what came to be known as Horizon Mobile, with Telefonica having a go and Verizon signing up to play with handsets from LG and Motorola. But The Reg's virtualisation desk hasn't heard much about the concept of late and Marshall today told us that the concept has been "shut down" at the Airwatch Connect event in Sydney.
"You can't out-Google Google," Marshall said enigmatically, possibly referring to the fact that Android 5 – aka Lollipop – now offers multiple user accounts and therefore makes dual-persona phones a bit less attractive. Marshall added that he personally argued very strongly against continuing with the dual persona plan, but that the decision to stop pursuing it was a "group decision" made by VMware and Airwatch.
The combined companies' replacement plan is delivering containerised apps to mobes, rather than a hypervisor. Airwatch and VMware both have tools to create, distribute and secure such containers. Both can also do it on iOS as well as Android, which is handy as the dual-persona plan was Android only.
Marshall thinks there's still a role for dual-persona devices if hardware makers are doing the personality splitting, because controlling hardware makes it possible to do a better job of splitting a smartmobe's virtual corpus callosum.
But VMware's now in the app-provisioning and management business, rather than the convincing handset-makers to deploy software business. Carriers remain in the mix: Marshall said mobile operators remain a vital channel for Airwatch.
Being a part of VMware isn't exactly hurting the outfit, as Marshall said Airwatch is now selling jointly with its parent company, is winning "synergy deals" and finds VMware's channel eager to help and capable when asked. Airwatch is also in the process of adopting the vCloud Air platform and has been able to enter Asian markets by camping in Virtzilla's extant offices in the region. ®